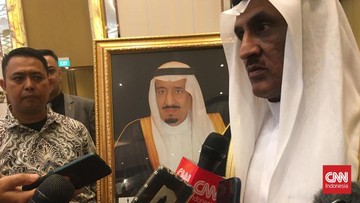 Jakarta, CNN Indonesia —
The new Ambassador of Saudi Arabia to Indonesia, Faisal Abdullah Al Amudi, was amazed to hear the sound of the call to prayer and prayers everywhere from mosques in Indonesia.
This is the first experience of experiencing Ramadan in Indonesia. Faisal began serving as the Saudi Ambassador to Indonesia as of January 31, 2023.
"Yes, there are many mosque sounds, everywhere the sound of the call to prayer. Thank God, the sound of the call to prayer is everywhere, it is repeated," said Faisal through his translator when met after an iftar event with the Saudi Embassy in Jakarta, Tuesday (28/3 ).
According to Faisal, the sound of the call to prayer and blessing that continues to echo, makes him feel that he is in a real Islamic country.
The call to prayer echoes in Saudi mosques not as busy as in Indonesia. This phenomenon is because the construction of mosques in residential areas is highly regulated by the Saudi government so that there are not as many as here. The distance from mosque to mosque in Saudi is not as close as in Indonesia.
(Gambas:Video CNN)
The Saudis also only allow the call to prayer to use external loudspeakers in mosques.
"I really feel that I am in an Islamic country, very clear, because the call to prayer is always in the mosque and the prayers," said Faisal again.
On that occasion, Faisal also expressed his desire to strengthen cooperation between Saudi Arabia and Indonesia.
It assesses RI as one of the countries with a large enough economy that attracts Saudi interest to continue working together.
"We (have) the ambition to further strengthen the relationship between the two countries," said Faisal.
Indonesia has good relations with Saudi Arabia. This closeness was reflected when the G20 summit took place last November in Bali.
At that time, President Joko Widodo was seen chatting with Crown Prince Mohammed bin Salman several times. The two of them were also seen laughing a little.
(one/bac)
(Gambas:Video CNN)