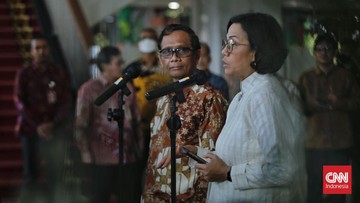 Jakarta, CNN Indonesia —
The Minister of Finance (Minister of Finance) Sri Mulyani (SMI) and the Coordinating Minister for Political, Legal and Security Affairs Mahfud MD were officially reported to Bareskrim Polri due to statements about suspicious fund transactions of IDR 349 ​​trillion.
Apart from SMI and Mahfud, the Coordinator of the Indonesian Anti-Corruption Society (MAKI) Boyamin Saiman also reported the Head of PPATK Ivan Yustiavandana.
"I am here to report an alleged crime of disclosing confidential data or information on results from PPATK," said Boyamin at Bareskrim Polri, South Jakarta, Tuesday (28/3).
"What was allegedly carried out by the Head of PPATK Ivan Yustiavandana, then the Coordinating Minister for Political, Legal and Security Affairs Mr. Mahfud MD, then the Minister of Finance Mrs. Sri Mulyani," he added.
Boyamin admitted that the reason behind the report was to end the debate that had taken place between the DPR and the Government regarding whether there was an alleged criminal act in that case.
He also believes that in that case there were no criminal offenses committed by the three officials. Therefore, he hopes that the report he made will be rejected by the Bareskrim Polri.
"Actually, I will report this later to SPKT to make an LP (police report), hopefully it will be rejected. Because if it is rejected, it means it is not a crime," he said.
Boyamin explained that he deliberately did this report to test the statements of a number of members of the DPR's Commission III who considered Mahfud, Sri Mulyani and Ivan to have committed a crime because they had leaked the suspicious transaction.
Boyamin claimed that his reporting was also carried out as a form of defense against PPATK. Because the report will determine who is right and wrong.
"Because in my opinion PPATK did not disclose secrets and violated the law as stipulated in Article 11 PPATK. But because the DPR said that I am testing it. Is this what the DPR is saying is true or is it just being ridiculous," he explained.
Furthermore, he admitted that in his report on Tuesday (28/3) today he would immediately include the names of a number of members of Commission III of the DPR RI as expert witnesses regarding the case.
"The witnesses/experts submitted were members of Commission III of the DPR, Arteria Dahlan, Benny K Harman, and Asrul Sani," he explained.
Previously, PDIP cadre and DPR RI Commission III member Arteria Dahlan assessed that the PPATK report was prohibited from being announced to the public.
Law Number 8 of 2010 concerning the Prevention and Eradication of Money Laundering Crimes carries a penalty of 4 years for those who leak it, which is the basis for the claim against this prohibition.
"The penalty, sir, is the penalty for each person, being punished with imprisonment for a maximum of 4 years. This is the same law, sir. This is serious," added Arteria.
(ref/FROM)
(Gambas:Video CNN)