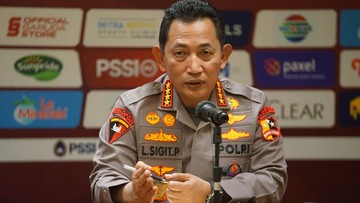 Jakarta, CNN Indonesia —
National Police Chief Gen. Listyo Sigit Prabowo rotated and transferred a number of high ranking officers (Pati) who became top officers in the Bhayangkara Corps.
The mutations were contained in four Telegram Letters from the Head of the Indonesian National Police. The respective letters are T/712/III/KEP./2023 for 8 personnel, ST/713/III/KEP./2023 for 155 personnel, ST/714/III/KEP./2023 for 193 personnel, and ST/715 /III/KEP./2023 totaling 117 personnel.
Transfer dated March 27 2023 signed by Deputy Chief of Police Komjen Gatot Eddy Pramono. In total there were 473 high and middle officers who were affected by the mutation.
The news of the transfer was also confirmed by the Head of the Public Relations Division of the National Police, Inspector General Dedi Prasetyo. Dedi said that this mutation was commonplace for the Police.
In the transfer letter, the National Police Chief transferred the Head of the National Police's Maintenance and Security Agency (Kabaharkam) Komjen Arief Sulistyanto in the framework of retirement. Listyo then appointed Inspector General Fadil Imran, who previously served as Kapolda Metro Jaya, to fill the position.
Meanwhile, the vacant position for Kapolda Metro Jaya is now occupied by Inspector General Karyoto, who was previously assigned as Deputy for Enforcement at the Corruption Eradication Commission (KPK).
In addition to the position of Head of Kabaharkam, the National Police Chief also transferred the position of Head of the National Police Education and Training Institute (Kalemdiklat) Komjen Rycko Amelza Dahniel to become the Chief of the Special Detachment (Densus) 88 Anti-terror Police.
The position of Kalemdiklat Polri is currently occupied by Komjen Purwadi Ariyanto who previously served as Main Secretary of the National Defense Institute (Lemhanas).
In addition, the National Police Chief also transferred the position of Head of the General Secretariat (Kasetum) Brigadier General Moch Seno Putro in order to retire. Seno's position will be replaced by Kombes Nanang Chadarusman.
Through this new placement, Nanang will get a promotion to the rank of First Star of the Police or Brigadier General.
(tfq/DAL)
(Gambas:Video CNN)