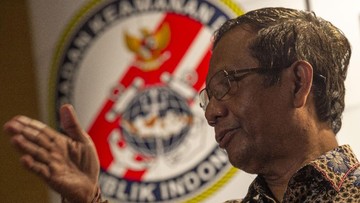 Jakarta, CNN Indonesia —
The Coordinating Minister for Political, Legal and Security Affairs Mahfud MD told members of Commission III of the DPR not to bully him. He conveyed this in a meeting with Commission III of the DPR with an agenda to discuss the Rp349 trillion polemic of odd transactions at the Ministry of Finance.
He said this was to answer the view of F-PDIP member Arteria Dahlan who said the PPATK report should not have been announced to the public. Arteria said that there is a criminal threat in Law Number 8 of 2010 concerning the Prevention and Eradication of ML for anyone who leaks a report.
Mahfud emphasized that DPR members should not corner and bully him. He said he could bully DPR members back because he was seen as obstructing investigations and law enforcement.
"So, brother, don't be bluffing. I can be bluffing too. You will be punished for obstructing investigations and law enforcement," Mahfud said before Commission III of the DPR RI, Wednesday (29/3).
After that, Mahfud also expressed his frustration with F-PPP member Arsul Sani because he felt he was always interrupted when delivering material. He didn't want to be interrupted.
"Don't play with threats, we are the same as brothers. Therefore, I want to emphasize that to Mr. Arsul, please don't cut it," he said.
Hearing Mahfud's protest, Deputy Chairman of Commission III of the Indonesian House of Representatives, Sahroni, requested that Mahfud's discussion be continued first. Until now the meeting is still ongoing.
Today, Mahfud MD was present as Chair of the Prevention of ML. He was present with the Secretary for Prevention of TPPU Ivan Yustiavandana and Kabareskrim Komjen Pol Agus Andrianto.
The Minister of Finance as well as a member of Prevention of TPPU Sri Mulyani who was invited to today's meeting was not present because there were other agendas in Bali.
(tsa)
(Gambas:Video CNN)