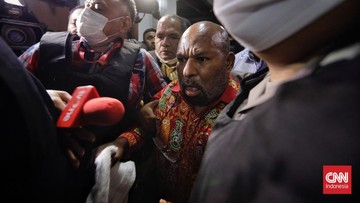 Jakarta, CNN Indonesia —
The Corruption Eradication Commission (KPK) is currently investigating allegations of money laundering (TPPU) allegedly committed by the non-active Governor of Papua Lukas Enembe.
"Le (Lukas Enembe)'s TPPU is being investigated. Just wait in the near future," said KPK Investigation Director Asep Guntur when confirmed, Wednesday (29/3).
The KPK suspects that Lukas has laundered money from the proceeds of alleged bribes and gratuities. Based on the KPK's preliminary findings, it is alleged that the Democratic Party politician invested money generated from corruption in a number of business activities.
The findings have been investigated by the KPK investigation team against the witness, Tanti Meylani, Head of the Manulife Indonesia Insurance APUPPT Unit, last Monday (20/3).
"The witness was present and explored his knowledge, among others, related to the suspected cash flow of the suspect LE which was then invested in several business activities," said Head of KPK Reporting Section Ali Fikri some time ago.
More than 90 witnesses including digital forensic experts, forensic accounting experts to experts from health have been examined to complete the dossier on the alleged bribery and gratification of Lukas.
During the investigation process, the KPK also confiscated around IDR 50.7 billion and froze accounts of IDR 81.8 billion and S$31,559.
Apart from that, the KPK has also confiscated gold bars, several precious stone rings and four cars allegedly related to the case.
Lukas is being prosecuted for alleged bribery and gratuities. He is suspected of receiving Rp. 1 billion in bribes from the director of PT Tabi Bangun Papua (TBP) Rijatono Lakka.
The bribes were allegedly related to an infrastructure project at the PUTR Office of the Papua Provincial Government.
The KPK suspects that Lukas also received gratuities worth IDR 10 billion. However, the anti-corruption agency has not disclosed the gratification parties.
(ryn/pmg)
(Gambas:Video CNN)