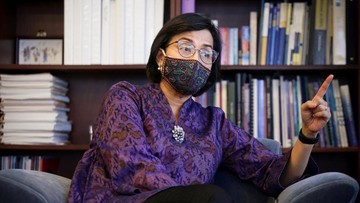 Jakarta, CNN Indonesia —
Minister of Finance Sri Mulyani ensured that the amount of the 2023 Eid holiday allowance (THR) for all civil servants, military and police was still the same as before.
This year, the amount of THR is given based on the calculation of basic salary, embedded allowances (position and family) and performance allowances (tukin) of 50 percent.
This policy is exactly the same as the previous year.
However, this year's THR policy is indeed better than 2021 which is given only by calculating basic salary and attached benefits. Meanwhile, the tukin is not included in the THR calculation. The reason is because the country's finances are still under pressure from Covid-19.
"For THR 2023 it will consist of payments in the amount of the basic salary or basic pension plus benefits attached to the basic salary, namely family allowances, food allowances, and other structural or general allowances. Also added 50 percent tukin per month," said Sri Mulyani in a press conference , Wednesday (29/3).
THR is ensured to be given to all civil servants both in Ministries/Institutions (K/L) and local governments.
"So we convey THR 2023 is given to all state apparatus and retirees consisting of central ASN, TNI soldiers, police and state officials around 1.8 million people," he explained.
According to him, this year's THR cannot be given like pre-pandemic Covid-19 because the government anticipates economic conditions that are still full of uncertainties.
"This year, 2023, as the handling of Covid is still under control, economic recovery is experiencing uncertain global challenges, especially the global economic slowdown, geopolitical conditions and monetary policy trends, so the policy of providing THR and 13th salary is adjusted to the current challenges," he concluded.
(Gambas:Video CNN)
(ldy/dzu)