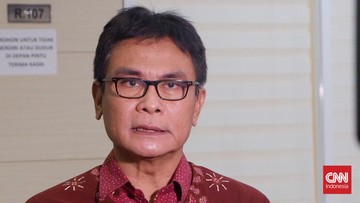 Jakarta, CNN Indonesia —
Member of Commission III DPR from F-PDIP Johan Budi reminded Coordinating Minister for Political, Legal and Security Affairs Mahfud MD not to make threats to members of the legal commission.
This was conveyed by Johan during a joint meeting with Mahfud and Head of PPATK Ivan Yustiavandana at Commission III of the DPR, Parliament Complex, Senayan, Wednesday (29/3).
"I ask my friends in Commission III not to make threats. Mahfud also doesn't make threats either," said Johan Budi at Commission III of the DPR RI.
Johan realizes that the term of office for board members is only 5 years in one period. According to him, Mahfud's tenure was also the same.
However, said Johan, Mahfud's term could be shortened if President Joko Widodo (Jokowi) reshuffled it.
"So the Coordinating Minister for Political, Legal and Security Affairs is like that, Mr. Mahfud, not necessarily five years. If it's reshuffled? What's more, there are a lot of people like this," he said.
The former KPK employee admitted that he was Jokowi's spokesperson. According to him, Jokowi most dislikes ministers arguing outside.
"I was once Pak Jokowi's spokesperson. Pak Jokowi at least didn't like ministers arguing outside, he was immediately reshuffled," Johan said, which was greeted by laughter from Mahfud MD.
"Of course I pray and I admire. Pak Mahfud was not reshuffled because of this. I know very well that Pak Mahfud is a straight man, very brave," he continued.
Mahfud MD was present at the DPR Commission III meeting, Wednesday (29/3) from 15.00 WIB. However, Minister of Finance Sri Mulyani did not attend the meeting because she chaired the ASEAN-wide economic forum in Bali.
Today's meeting discussed the polemic on odd financial transactions worth IDR 349 ​​trillion at the Ministry of Finance (Kemenkeu). Mahfud has presented a number of data related to this odd transaction.
(father/from)
(Gambas:Video CNN)