Jakarta, CNN Indonesia —
Indonesian U-20 national team striker Hokky Caraka was unable to hide his sadness after Indonesia was canceled from hosting the 2023 U-20 World Cup.
"We are disappointed about the failure of the U-20 World Cup. Don't you say, 'Oh, the World Cup is just a give away' or whatever you call it," said Hokky via Instastory.
"We also practice like this. Who wants to be blamed? Wake up!!!! You are only dreaming," he added.
FIFA officially revoked Indonesia's status as the host for the 2023 U-20 World Cup. This was announced directly on their official website, Wednesday (29/3).
This decision was taken shortly after FIFA President Gianni Infantino and PSSI Chairman Erick Thohir met in Doha, Qatar.
Hokky, one of the U-20 Indonesian players who is known to be vocal on social media, does not hesitate to express his feelings on social media.
"My point of view is about those who ask a lot of questions without reading. They say school, but where is the brain? Please change the mindset again."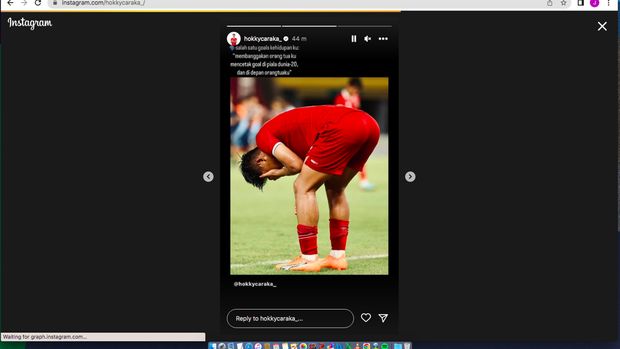 Hokky Caraka's Instagram screenshot after FIFA officially canceled the 2023 U-20 World Cup in Indonesia.
One of Hokky's uploads is no less heartbreaking. His dream of scoring goals at the U-20 World Cup and being witnessed by his parents must be pursued deeply.
"One of my goals in life: to make my parents proud by scoring goals at the U-20 World Cup, in front of my parents," wrote Hokky.
"I don't know what to do after what happened," said Hokky again.
(Gambas:Instagram)
The social and political situation that has occurred in Indonesia in the last two weeks has been the reason FIFA revoked the status of the host for the U-20 World Cup. The rejection by a number of circles of Israel's presence as a contestant became the trigger.
The issue of rejection was exacerbated by statements from politicians and local governments. Two of them came from the Governor of Bali I Wayan Koster and the Governor of Central Java Ganjar Pranowo.
(Gambas:Video CNN)
(June/June)