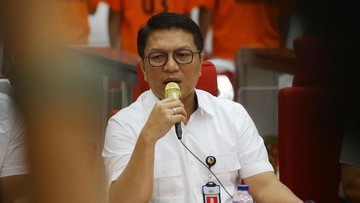 Jakarta, CNN Indonesia —
National Police Chief Gen. Listyo Sigit Prabowo again transferred the position of Inspector General Nico Afinta from his position as Social and Cultural Expert Staff (Sahlisosbud) to the National Police Chief as Chair of the Police College (STIK) Lemdiklat Polri.
The decision for this transfer was stated in the Telegram Letter from the Chief of Police with number ST/713/III/KEP/2023 dated March 27 2023 which was signed by the Deputy Chief of Police Komjen Gatot Edy Pramono.
Meanwhile, Deputy Chief of Regional Police of Metro Jaya, Brigadier General Pol Hendro Pandowo, now occupies the position left by Nico as Sahlisosbud Kapolri. Meanwhile, Deputy Chief of Police for Metro Jaya is now Brigadier General Suyudi Ario Seto.
Nico has only held his position as Sahlisosbud Kapolri for only six months after being removed from his position as East Java Regional Police Chief on October 10, 2022. He ended his position as East Java Regional Police Chief after serving at the end of 2020.
At that time, Nico's removal from his position as East Java Regional Police Chief was carried out exactly nine days after the deadly tragedy at the Kanjuruhan Stadium, Malang, East Java, which caused hundreds of Arema FC supporters to die.
While serving in the police, Nico has been noted to have taken part in the detective sector. The man who was born in Surabaya, East Java, on April 30 1971 graduated from the Police Academy (Akpol) in 1992.
Before being placed at the East Java Regional Police, Nico served for a long time at the Metro Jaya Police. He was noted to have served as Wadirreskrimum Polda Metro Jaya in 2011. Five years later, Nico was entrusted with becoming the Director of Narcotics Research at Polda Metro Jaya in 2016.
After that, Nico was appointed Director of General Criminal Investigation at Polda Metro Jaya in 2017. At that time he uncovered the case of Ratna Sarumpaet's lies which shocked the public.
Nico then continued his career at the National Police Headquarters as Karobinopsnal Bareskrim Polri starting in 2018. He was entrusted with being the Director of General Crimes at the Bareskrim Polri in 2019 and was later appointed as the National Police Chief's Social and Political Expert Staff.
Nico was later appointed as South Kalimantan Police Chief. Not long after, he was placed as the East Java Regional Police Chief to replace Inspector General Fadil Imran who was withdrawn to Polda Metro Jaya.
Nico continued his education at the Police Science College (PTIK) until 2001. Nico also studied law for his Masters and Doctoral degrees at Padjadjaran University. He also earned his doctorate in 2016, at the same time as his graduation from Sespimti Polri.
(rzr/DAL)
(Gambas:Video CNN)