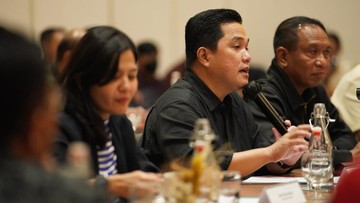 Jakarta, CNN Indonesia —
FIFA underlined the potential for sanctions for Indonesia after canceling the hosting of the 2023 U-20 World Cup.
FIFA has issued an official statement regarding the 2023 U-20 World Cup, Wednesday (29/3) evening WIB. In its official statement, the world's highest football parent stated that Indonesia's status as host had been cancelled.
This refers to the situation that has occurred in Indonesia in recent weeks. As is known, several parties rejected Israel's participation in the 2023 U-20 World Cup.
"The new hosts will be announced as soon as possible, with the current tournament date remaining unchanged. Potential sanctions against PSSI may also be decided at a later stage," read an official FIFA statement.
The 2023 U-20 World Cup was originally held in Indonesia from May 20 to June 11. However, ahead of the event, there was a polemic about the participation of the U-20 Israeli national team.
Some parties refuse Israel to play in Indonesia, because it does not have diplomatic relations with Indonesia.
While there are also many parties who don't mind Israel playing in Indonesia, because this is a sporting activity that is a FIFA event.
This polemic ultimately resulted in the cancellation of the 2023 U-20 World Cup draw. FIFA decided to cancel the draw in Bali due to the wave of rejection against Israel that occurred in Indonesia.
(Gambas:Video CNN)
(jal/rhr)