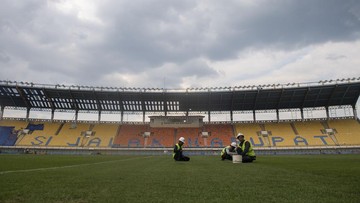 Jakarta, CNN Indonesia —
FIFA has officially revoked Indonesia's hosting status for the upcoming 2023 U-20 World Cup.
The announcement was released by FIFA on Wednesday (29/3). FIFA has met PSSI chairman Erick Thohir before making this decision.
"Following today's meeting between FIFA President Gianni Infantino and Chairman of the Indonesian Football Association (PSSI) Erick Thohir, FIFA has decided, due to the current circumstances, to withdraw Indonesia from hosting the 2023 U-20 World Cup."
"The new hosts will be announced as soon as possible, with the current tournament date remaining unchanged. Potential sanctions against PSSI may also be decided at a later stage. FIFA would like to underline that regardless of the decision, it remains committed to actively assisting PSSI, working closely together and with support from the government of President Joko Widodo, in the process of transforming Indonesian football after the tragedy that occurred in October 2022," wrote FIFA in their official statement.
Erick Thohir stated that he had tried to convince FIFA, including by delivering a letter from President Joko Widodo. However, FIFA's decision to revoke host status for the U-20 World Cup has been unanimous.
"I have tried my best. After delivering a letter from President Jokowi, and talking at length with the President of FIFA, Gianni Infantino, we must accept FIFA's decision to cancel the holding of the event that we are both looking forward to."
"Indonesia is a member of FIFA, so for international football matters, we must follow the rules that have been set. Even though I have conveyed everything to Gianni earlier, what the President has entrusted, football lovers, the U-20 national team children, and also loyal football fans, but because we are members and FIFA considers that the current situation cannot be continued, we must submit," said Erick.
The crucial moment that threatened Indonesia's hosting status for the U-20 World Cup was the wave of rejection that emerged against the presence of the Israeli national team. Israel is one of the participating countries that successfully qualified as European representatives.
The two governors whose territories were the venues for the event, I Wayan Koster and Ganjar Pranowo, also voiced their opposition. This is what is believed to have caused FIFA to cancel the draw for the 2023 U-20 World Cup which was scheduled to take place in Bali, March 31. PSSI conveyed this information on Sunday (26/3).
When the decision to cancel the drawing was made, the danger signal was already on for Indonesia. A few days later, FIFA then officially revoked Indonesia's host status.
(Gambas:Video CNN)
(ptr)