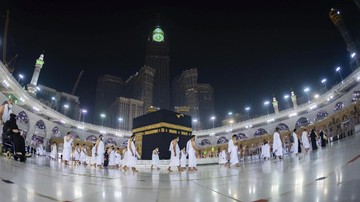 Jakarta, CNN Indonesia —
The Polda Metro Jaya Anti Mafia Umrah Task Force uncovered a case of Umrah fraud committed by the travel agent PT Naila Syafaah Wisata Mandiri. This case was revealed based on a report from the Ministry of Religion (Kemenag) after receiving information from Umrah pilgrims who could not return to Indonesia.
The number of victims who were deceived by this Umrah travel reached hundreds with an estimated loss value of IDR 91 billion.
CNNIndonesia.com summarizes a number of facts related to this Umrah fraud case as follows.
1. Three suspects, including a married couple
The police have named three suspects in the Umrah fraud case committed by PT Naila Syafaah Wisata Mandiri. Two of them are husband and wife (couples) as owners, namely Mahfudz Abdulah alias Abi (52) and Halijah Amin alias Mother (48).
Then, one other suspect is Hermansyah (59) as the Main Director of PT Naila Safyaah Wisata Mandiri.
The three of them were charged with Article 126 Juncto Article 119 A of Law Number 8 of 2019 concerning Organizing the Hajj and Umrah Pilgrimage as amended in Article 126 of Law Number 11 of 2020 concerning Job Creation with a maximum penalty of 10 years in prison.
2. Losses are estimated at IDR 91 billion
Based on the results of the investigation, the Umrah Polda Anti-Mafia Task Force said that the total loss in this case was estimated at IDR 91 billion.
The amount of this loss is estimated to still increase. This is because the company allegedly has many branches, so many victims have not reported it.
"The losses that we have collected from several police reports amount to more than Rp. 91 billion, in the form of money," said Head of Sub-district Kamneg Ditreskrimum Polda Metro Jaya AKBP Joko Dwi Harsono to reporters, Tuesday (28/3).
3. The owner fled to DIY to avoid victims
The two suspects, who are married couples, namely Mahfudz and Halijah, fled to DI Yogyakarta before being arrested by the police.
The two of them decided to go to Jogja to escape the pursuit of the victims. Both also admitted that they deliberately chose the Jogja area because they considered it to have a low cost of living.
4. One recidivist suspect in a similar case
The suspect named Mahfudz turned out to be a recidivist. He was once arrested in a fraud case for Umrah pilgrims in 2016.
In the previous case, Mahfudz is known to have served as a leader at PT Garuda Angkasa Mandiai (GAM). At that time, Mahfudz offered cheap Umrah packages to the victims at prices ranging from IDR 13 million to IDR 19 million.
In 2016, many prospective Umrah pilgrims who had deposited their money at Mahfudz's company failed to depart. However, it is not yet known how many victims and losses from Mahfudz's fraud at that time.
5. Victims of displacement in Saudi Arabia
This deceptive act carried out by PT Naila Syafaah Wisata Mandiri caused many Umrah pilgrims to be stranded in Saudi Arabia because they could not return to their homeland.
In the documents received, one of the victims named Abdus and 63 other people were originally scheduled to return from Saudi Arabia to Indonesia on September 18 2022 at around 17.50 local time.
The pilgrims arrived at the airport in Saudi Arabia at around 15.00 local time. However, he failed to return home on the grounds of a problematic visa. Dozens of Umrah pilgrims were taken to the Prima hotel and stayed for three days. They were transferred to Hotel Pakons Prime until their discharge time on 29 September 2022.
However, out of a total of 64 pilgrims, not all of them could be sent home. As many as 16 pilgrims still have to wait for their return. Finally, dozens of Umrah pilgrims were stranded for nine days in Mecca and there was no news from the Umrah travellers.
"I am Abdus, one of the victims of PT Naila Safaah and representing 16 other congregations for the delay in returning to Indonesia for about eight days in Mecca. We sent a letter to the Indonesian Consulate General and received a response so we were sent home," said Abdus in a video.
(dis/tsa)
(Gambas:Video CNN)