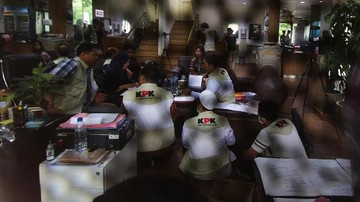 Jakarta, CNN Indonesia —
The Corruption Eradication Commission (KPK) searched the Office of the Bintan Free Trade Area and Free Port Concession Agency for the Tanjungpinang City Region.
The KPK confiscated various fictitious cigarette quota regulatory documents. The search that was carried out on Tuesday (28/3) was related to the investigation into the alleged corruption in excisable goods.
"Regarding the evidence found and secured, among others, various documents fictitious arrangements for cigarette quotas that were allegedly compiled by parties related to this case," said KPK Head of Reporting Section, Ali Fikri, Wednesday (29/3).
"Immediately confiscation and analysis will be carried out to become evidence and will also be confirmed by witnesses and suspects," he continued.
This is the second search conducted by the KPK. Previously, on Monday (27/3), the KPK had already searched a location in Tanjungpinang. Ali did not provide details of the location.
The KPK found and secured evidence, including in the form of documents to electronic devices, which are suspected of strengthening the unlawful actions of parties related to this case.
Previously, the Corruption Eradication Committee (KPK) revealed that this case of alleged corruption in the regulation of excisable goods caused losses to state finances of up to hundreds of billions of rupiah.
According to the KPK, this case is different from the previous investigation that ensnared Bintan Regent Apri Sujadi.
The KPK has named suspects in this investigation process, but has not announced them to the public.
(bmw/bmw)
(Gambas:Video CNN)