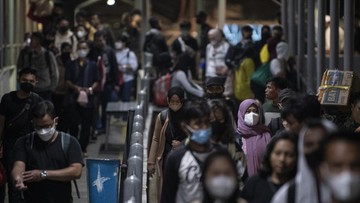 Jakarta, CNN Indonesia —
The Coordinating Minister for Human Development and Culture (Menko PMK) Muhadjir Effendy estimates that the number of people going home for the 2023 Eid al-Fitr holiday will increase dramatically compared to 2022.
He conveyed this referring to the results of a survey by the Ministry of Transportation related to predictions of the number of travelers on Eid al-Fitr 2023.
"Based on the results of a survey by the Ministry of Transportation, which periodically every year ahead of Eid al-Fitr, 123 million people will be going home this year. This is a drastic increase compared to last year's estimated 85 million people going home," Muhadjir said at the Coordinating Ministry for PMK Office, Jakarta, Wednesday (29/3 ).
Muhadjir then asked the TNI, Polri and related parties to carry out periodic assessments regarding preparations for going home this year. For him, this assessment is important to anticipate community mobility so that the implementation of homecoming flows goes well.
Therefore, he said that the government will add the Eid al-Fitr joint leave to April 19, 20, 21, 24 and 25 to optimize homecoming planning.
"This is the addition of joint leave to make planning for homecoming for Eid better and more mature so as to avoid traffic jams," he said.
The Minister of Transportation, Budi Karya Sumadi, previously said that the new schedule for joint leave for the 2023 Eid Al-Fitr could reduce the buildup of vehicles during homecoming. The government predicts that residents will start going home from April 18 afternoon with this new schedule.
Budi believes that the homecoming flow is predicted to last for four days until April 21. Thus, travelers have more time to go to their respective hometowns.
(rzr/ugo)
(Gambas:Video CNN)