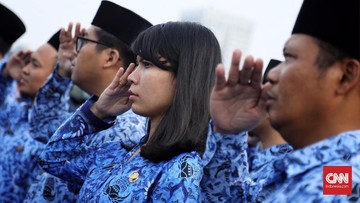 Jakarta, CNN Indonesia —
Minister of Finance Sri Mulyani will start disbursing THR for civil servants, retirees, members of the TNI and Polri starting H-10 Eid or 4 April.
He said the THR would be given in the amount of the basic salary plus benefits attached to the salary which includes family allowances, food allowances and structural, functional or other allowances.
He said that the THR for civil servants, retirees, members of the TNI and Polri is actually different from what was given to state servants in 2020 and 2021, or when Covid hit.
In 2020, THR will only be given in terms of basic salary, family allowances and positions. Meanwhile, the performance allowance component is removed from the basis for calculating THR for civil servants.
THR is also only given to civil servants, military and police under echelon 2.
"Due to the conditions at that time, the state's finances had fallen sharply and the priority for using the budget was to deal with the pandemic and maintain people's resources," he said in a press conference, Wednesday (29/3).
Meanwhile for 2021, because economic conditions and the pandemic have started to improve, THR is given to all civil servants and retirees with components; basic salary, family allowance, embedded allowance and position allowance.
In 2022, THR will also be given to civil servants with the same amount as 2021. Even though it is the same, in 2022 yesterday the government added a performance allowance component of 50 percent to THR for PNS.
"Because even though we see a good economic recovery and controlled Covid-19, there was a shock from soaring oil prices which triggered a surge in electricity fuel subsidies. That's why last year's THR and 13 salaries were equated with 2021," he said.
Apart from this difference, Sri Mulyani also gave special gifts to lecturers and teachers. For those two who do not receive a performance allowance in the THR component, the teacher and lecturer will be given a professional allowance of 50 percent.
(Gambas:Video CNN)
(fby/agt)