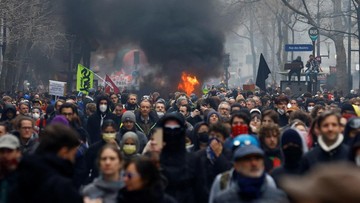 Jakarta, CNN Indonesia —
French citizens held another demonstration against extending the retirement age on Tuesday (28/3).
A number of demonstrators burned trash cans, cars and banks during the action.
Reuters reported that hundreds of people demonstrated in French cities such as Rennes, Bordeaux, Toulouse and Nantes.
They demonstrated after the government rejected a request by unions to suspend and reconsider a bill on the retirement age of workers being increased by two years to 64 years.
Residents were then angry and urged the government to find another way out to overcome the crisis.
(Gambas:Video CNN)
During one of the rallies, a fiery mob set fire to the front of a BNP Paribas bank branch in the western city of Nantes. A car around the demonstrators also became victims of arson.
Some people even shot fireworks at the police in the area.
Meanwhile, in western France, protesters blocked the Rennes ring road and set cars ablaze on the road. In Paris and Marseille, they blocked the railroads for some time.
Strikes also occurred in the transportation, aviation and energy sectors, disrupting travel.
The French Interior Ministry recorded 740,000 people taking part in Tuesday's protests across the country. That number is far below the record of 1.09 million that occurred on the demo last Thursday (23/3).
Yesterday's protest was considered more peaceful than last Thursday's protest. At that time, the 'Black Block' rioters smashed shop windows, bus stops, and ransacked a McDonald's restaurant in Paris. Riots also occurred in other cities.
Since mid-January, millions of French citizens have demonstrated and gone on strike to reject the bill for extending the working age.
The protests escalated especially after the government used its special powers to pass bills through parliament without a vote.
French President Emmanuel Macron claimed the change was necessary in order to maintain the balance of the country's finances. But unions and opposition parties have resisted and insist there are other ways to tackle the crisis.
"We have proposed a way out and it is intolerable that we are hindered again," the head of the CFDR union, Laurent Berger, told reporters.
The government has so far said it is willing to talk to the unions, but cannot cancel the bill.
Prime Minister Elisabeth Borne offered to meet the unions next Monday and Tuesday.
Meanwhile, the union said it would hold another protest on Thursday, April 6.
(blq/bac)