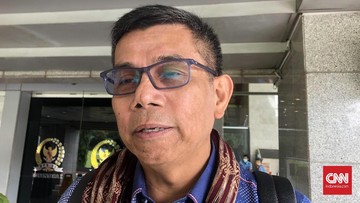 Jakarta, CNN Indonesia —
Member of Commission III of the House of Representatives from the Democratic faction, Hinca Panjaitan proposed that the government issue a Perppu on Asset Confiscation following the polemic on transactions of IDR 349 ​​trillion at the Ministry of Finance (Kemenkeu).
This statement was conveyed by Hinca in a meeting with Commission III of the DPR and the Chairperson of the TPPU Prevention Committee, Mahfud MD, at the parliament complex, Wednesday (29/3).
Hinca compared the government's reason for issuing the Perppu Ciptaker with the reason of urgency. According to him, the government should also be able to issue a Perrpu on Asset Confiscation.
"If we only mean Job Creation, a compelling crisis, why not confiscating assets is not a compelling crisis," Hinca said at the meeting.
He asked Mahfud to immediately submit his proposal to President Joko Widodo. Hinca assessed that the polemic over the IDR 349 ​​trillion transaction had entered the category of a compelling crisis.
"Hopefully tomorrow morning the tweet will be there, I will report to President Jokowi about the confiscation of assets because of the crisis that forced hundreds of trillions to be saved for the nation and the state," he said.
In the previous meeting, Mahfud also asked the DPR to support the Asset Confiscation Bill. Mahfud revealed that the government had submitted the draft of the Asset Confiscation Bill, but he was surprised that the bill had recently been excluded from the short-term legislation program.
"Even though the contents had been approved by the previous DPR, the government then corrected the previous one and then agreed," he said.
Meanwhile, Deputy Minister of Law and Human Rights Eddy Hiariej said the draft Asset Confiscation Bill was still in the harmonization stage by the government before being discussed with the DPR before being passed into law.
(thr/isn)
(Gambas:Video CNN)