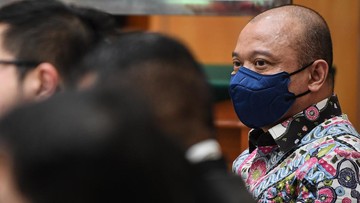 Jakarta, CNN Indonesia —
The Civil Society Alliance assesses the narcotics case of the former West Sumatra Regional Police Chief Inspector General Teddy Minahasa, confirming the statement by death row convict Freddy Budiman regarding security forces in the narcotics business.
Public lawyer for LBH Masyarakat Ma'ruf Bajammal said that Teddy's case was a Pandora's box for narcotics cases being handled by the police.
Ma'ruf said that even law enforcement officers who have held high positions can abuse the authority they have.
"What happened today regarding the TM case actually confirms what Freddy Budiman said at that time," Ma'ruf said in a press conference at the YLBHI Office, Jakarta, Wednesday (29/3).
Furthermore, Ma'ruf also mentioned the statement of the accused Linda Pujiastuti alias Anita at the trial who went to Taiwan with Teddy.
Linda said Teddy asked for a fee or payment of IDR 100 billion to get one ton of methamphetamine to Indonesia. According to him, Linda's statement also confirmed Freddy's statement about security forces.
"That's right. At that time, Freddy said he had been to the factory in Taiwan, right? This is happening, wow, this is deja vu, just like what Freddy said at the time," he said.
Previously, Linda told me about her visit with Teddy to Taiwan to agree on a price to get methamphetamine to Indonesia.
According to Linda, Teddy asked for a fee of IDR 100 billion to get one ton of methamphetamine to Indonesia. However, the deal fell through.
"For one ton, Pak Teddy asked for Rp. 100 billion, but because at that time it was too expensive, in the end it didn't work," Linda said at the West Jakarta District Court (PN), Wednesday (15/3).
Reportedly, on Friday, July 29 2016, Ulil Abshar Abdalla shared an article entitled "Rotten Story of a Bandit" via his Facebook account.
The article contains information on a conversation between Haris Azhar and Freddy Budiman at a meeting in Nusakambangan in 2014.
The article mentions that there are elite police officials, BNN and Customs who work together to secure Freddy's narcotics business.
"I am not a dealer, I am a large-scale drug smuggling operator, I have a boss who is not in Indonesia. He (my boss) is in China. If I want to smuggle drugs, I will of course organize it. I call the police, BNN , Customs and the people I called all nitip (entrusted the price). According to Pak Haris, what is the price of the drugs I sell in Jakarta, where the market is 200,000 – 300,000?" thus excerpt from the article.
(pop/off)
(Gambas:Video CNN)