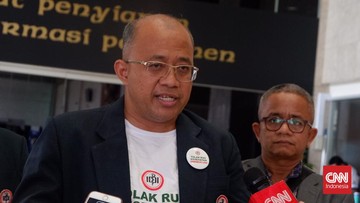 Jakarta, CNN Indonesia —
The Executive Board of the Indonesian Doctors Association (PB IDI) opened their voices about the commotion that arose regarding the letter calling for demonstrations to doctors, with the lure of six Professional Credit Units (SKP).
This letter calling for demonstrations was leaked to the public and became a debate on social media.
SKP is part of a doctor's need to obtain a license to practice (SIP) and a registration certificate (STR).
In a copy of the circular letter received by CNNIndonesia.com, it can be seen that the call for a peaceful action with the reward of six SKPs was carried out by IDI in the East Java region on October 21, 2016.
Another copy of the document also shows a certificate issued on 24 October 2016 by IDI Bengkulu region which was addressed to participants in the 'Health Reform Emergency' peaceful action.
SKP collected in an amount determined by this professional organization itself is one of the requirements for doctors to pocket or extend a Registration Certificate (STR) which is valid every five years.
PB IDI emphasized that the 'prize' of 6 SKP for doctors who are willing to demonstrate is not the policy of the Central IDI.
"So one thing is clear that this is not an IDI policy," said IDI chairman Adib Khumaidi in a voice recording received by CNNIndonesia.com, Wednesday (29/3).
Adib said SKP has several functional domains, including learning, professional, and professional services.
He considered that it was very likely that the regional IDI would perceive the peaceful action as a form of community service.
"There are some casuists who interpret it as professional service. But it is not a national policy. So don't generalize that one case that it is an IDI policy as a national organization," he said.
(Gambas:Instagram)
The doctor's obligation to fulfill the SKP according to the IDI BP2KB book is 250 SKP in 5 years. This means 50 SKP in a year. SKP can be obtained from a number of activities.
In the professional realm can be obtained through the practice of serving patients. Then in the realm of learning by attending seminars or workshops, and the last in the realm of service by joining social services can be in the form of counseling or activities related to the community.
Regarding the viral statement and the appearance of the certificate of appreciation for the demonstration participants released by the IDI Bengkulu Regional Branch, Adib asked the public not to interpret it as an abuse of the SKP requirement.
"But it is not a national policy," said Dr. Adib.
"So don't generalize that one case later that it is an IDI policy as an organization on a national basis," he said.
(kr/ain)
(Gambas:Video CNN)