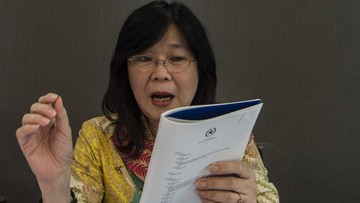 Nusa Dua, CNN Indonesia —
Bank Indonesia (BI) admits that it is difficult to apply the Quick Response Code Indonesian Standard (QRIS) between countries in the Southeast Asia (ASEAN) region.
Head of the BI Payment System Policy Department Filianingsih Hendarta explained a number of challenges in developing the transaction tool, such as high fees, limited access, to transparency.
Therefore, progress in developing QRIS between countries is not as impressive as domestic payments.
Filianingsih also hopes that in the future the implementation of QRIS in ASEAN can be as massive as in Indonesia.
"For this purpose we will (utilize) the FSB (Financial Stability Board). Then a roadmap to increase cross-border payments. I believe it will set out the necessary elements to overcome high costs, low speed, limited access, insufficient transparency," he said in the ASEAN Finance Ministers and Central Bank Governors (AFMGM) event in Nusa Dua Bali, Tuesday (28/3).
He also mentioned that each country has different rules and designs regarding payments. This is what makes implementing QRIS between countries complex and time-consuming.
Even so, currently BI, Bank Negara Malaysia (BNM), Bangko Sentral ng Pilipinas (BSP), the Monetary Authority of Singapore (MAS), and the Bank of Thailand (BOT), have agreed to work together in implementing QRIS between countries.
QRIS between countries is a transaction tool between countries, especially ASEAN to make it more efficient. That way, transactions between MSMEs and the world of tourism between countries will become easier.
QRIS between countries is currently only running between Indonesia and Thailand. On a separate occasion, BI Governor Perry Warjiyo said QRIS could be fully used in Thailand for various transactions, from tourism to MSME trading.
With QRIS, people's transactions in Thailand do not need to use money or foreign exchange. But only scan / scan the barcode.
Perry also ensured that the five countries could digitize payment systems, cross-border, QR and fast payments with local currency payments in the near future.
"This simultaneously supports tourism, supports MSMEs, and also supports the digital financial economy nationally," he added.
(Gambas:Video CNN)
(mrh/sfr)