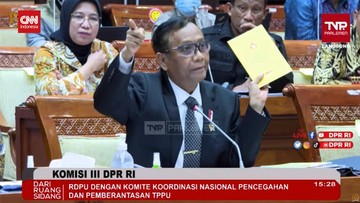 Jakarta, CNN Indonesia —
Member of Commission III Arteria Dahlan did not accept the statement by the Coordinating Minister for Political, Legal and Security Affairs Mahfud MD who dragged the name of Head of BIN Budi Gunawan.
Mahfud's statement that challenged Arteria to dare to speak out to Budi Gunawan was seen as contradictory.
Arteria who considered Mahfud as a respected teacher felt let down.
"I respect Prof. My parents and teachers. Prof. kills children who Prof. taught himself, if Prof. does this," said Arteria at the DPR Commission III Hearing, Wednesday (29/3).
"I had a career from a young age, Prof. I didn't use any facilities. Suddenly, the Prof tried to collide with me, whom I respect, Pak Budi Gunawan," he added.
Mahfud's challenge came out because Arteria assessed that the Financial Transaction Reports and Analysis Center (PPATK) should not have leaked intelligence information to Mahfud MD.
He also expressed his disappointment at being a victim of cyberbullying because he did not respond to Mahfud's challenges on social media.
"Suddenly I was surprised to be challenged, I tried to be patient. Everyone has courage, I make sure I have courage. But I said I didn't dare to accept Prof's challenge," he said.
"Prof was bullied, (considered) a coward, a coward, a lot of bullying, and so on. I said that I consider him my parents and a teacher, it was actually considered a classic reason," he said.
He also asked for Mahfud MD's strong statement about the DPR Markus being revoked. Arteria threatened to sue this matter if Mahfud MD did not withdraw it.
"Earlier the Prof was so strict, the DPR was tough even though Markus asked for a project. Prof had to withdraw it, I asked Prof to withdraw. I didn't agree to be a member of the DPR from the start, but I don't think people will think that members of the DPR are like what the prof said," said Arteria .
"I ask the Prof to remove it or later I will do this too," he added.
(psr/isn)
(Gambas:Video CNN)