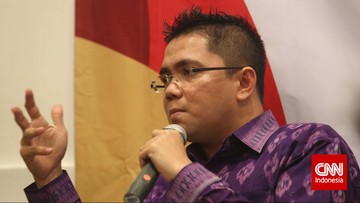 Jakarta, CNN Indonesia —
Member of Commission III Arteria Dahlan admitted that he was bullied or bullied by many parties because he did not dare to face the challenge of Coordinating Minister for Political, Legal and Security Affairs Mahfud MD.
This was disclosed during the Commission III Hearing Meeting with Mahfud MD regarding the alleged money laundering of IDR 349 ​​trillion. He admitted that he was surprised to be challenged by Mahfud through social media.
Arteria admitted that he did not take up the challenge because he respected Mahfud as a teacher and parent.
"Prof was bullied, (said to be) stupid, cowardly, scolded a lot, and so on. I said he considered my parents and teachers, in fact it was said to be a classic reason," said Arteria, Wednesday (29/3).
"Suddenly I was surprised to be challenged, I tried to be patient. Everyone has courage, I make sure I have courage. But I said I don't dare to accept the Prof's challenge," he explained.
During the meeting, Mahfud and Arteria were also involved in a heated debate. Mahfud challenged Arteria by dragging the name of BIN Chief Budi Gunawan. This was in response to Arteria's statement that the Financial Transaction Reports and Analysis Center (PPATK) should not have leaked intelligence information to Mahfud MD.
Mahfud also called the DPR markus alias case broker. Mahfud's statement was bombarded with interruptions. Arteria even threatened to sue for the statement if Mahfud did not withdraw it.
"Earlier the Prof was so strict, the DPR was tough even though Markus asked for the project. Prof had to withdraw it, I asked Prof to withdraw," said Arteria.
"Don't let people count the members of the DPR as the Prof said. I ask the Prof to withdraw or later I will do this too," he said.
(psr/isn)
(Gambas:Video CNN)