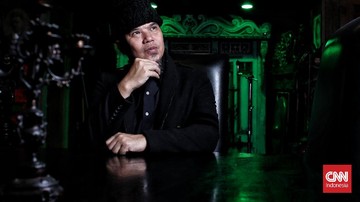 Jakarta, CNN Indonesia —
Ahmad Dhani has not been able to reveal for sure the details of the validity period of the ban on singing Dewa 19 songs for Once. The ban actually came into effect Tuesday (28/3) because Dewa 19 will tour after Eid 2023.
"I announced that I specifically banned, I banned Once from singing Dewa 19 songs since I said it in the media today," said Ahmad Dhani in Pluit and uploaded to YouTube on Tuesday (28/3).
"(The validity period of the ban) Until I announce it again later because the concert until December is full, twice every weekend," said Ahmad Dhani.
He explained the reason behind the ban was because the Dewa 19 tour would take place after Eid until December 2023.
"Because Dewa is currently on tour, after Eid twice every week. Tour with Dewa 19. So there should not be other disturbing concerts using Dewa's songs," said Ahmad Dhani.
"I look after the muruah Dewa, also maintain the purity of the Dewa concerts that we hold after Eid twice a week."
On that occasion, he also insisted that the ban only applies to Dewa 19's songs. While the songs he created for TRIAD and Ahmad Band are said to be able to be sung Once when performing.
"Specifically, Once is prohibited from using Dewa's songs in its concerts. Other Ahmad Dhani's songs are allowed, (the ban) is specifically for Dewa's songs," said Ahmad Dhani.
(Gambas:Video CNN)
This statement came about a month in the midst of bustling news about the ban on singing the song Dewa 19 by Once and royalties.
At that time, Dhani said that the issue of royalties and permission to perform the song Dewa 19 was the domain of the event organizer, not Once. Thus, the Dewa 19 employee emphasized that he had no problems with Once regarding the permission to perform the song created by Ahmad Dhani.
He also emphasized that the obligation to pay royalties is not the responsibility of the soloist. This was conveyed after knowing that Once was looking for a middle ground regarding royalties for singing the song Dewa 19.
This has now been reaffirmed by Ahmad Dhani. He stated that there was absolutely no problem with Once, Dewa's vocalist in the early 2000s to early 2011.
"Yes, I don't have a problem with Once. From the start I said that it was not Once who had to pay, but EO," Ahmad Dhani emphasized his relationship with Once.
(chri)