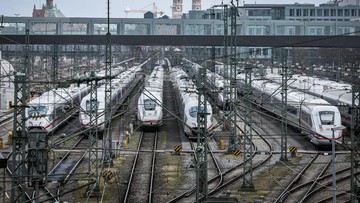 Jakarta, CNN Indonesia —
The transportation system in Germany was paralyzed, as a result of workers going on strike demanding wage increases.
The strike action by workers in the transportation sector was carried out in line with the increasing inflation in the country.
Reporting from The Guardian, workers at airports, ports, trains, buses and metro lines in Germany joined the strike called for by the Verdi and EVG trade unions, for a full day.
As a result of this strike, transport users in Germany are experiencing difficulty getting around.
The Verdi Union is demanding a 10.5 percent increase in workers' wages, while EVG is asking for a 12 percent increase.
(Gambas:Video CNN)
Most state and private companies have so far resisted the demands. Instead, they are offering a wage increase of just five percent with two payments, namely €1,000 (equivalent to Rp.16 million) and €1,500 (equivalent to Rp.24 million) this year and next year.
In anticipation of the strike, state-owned rail company Deutsche Bahn (DB) suspended all long-distance train trips for the day. Regional and local commuting in seven of Germany's 16 federal states has also halted.
Representatives for DB said the strike was "unfounded and unnecessary". The company then urged the union to immediately return to work.
Meanwhile the German Airports Association said the strike action by workers was unjustifiable. It is estimated that around 380 thousand airplane passengers will be affected by this strike.
Like many other countries, Germany has recently been hit by high inflation as a result of Russia's invasion of Ukraine.
Food and energy prices in Germany soared along with the Russian invasion, which has yet to end.
(blq/bac/dna)
(Gambas:Video CNN)