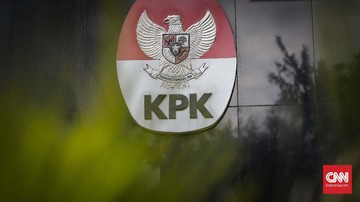 Jakarta, CNN Indonesia —
The Corruption Eradication Commission (KPK) stated that it was investigating allegations of corruption in the payment of performance allowances or employee tukin at the Ministry of Energy and Mineral Resources. The anti-corruption agency has already named a suspect.
This case originated with a public complaint which was followed up with a special inquiry and investigation process for the 2020-2022 fiscal year.
"This case has gone up to the investigation stage because the KPK has at least two pieces of evidence and there are several parties who can be legally accounted for," said Head of KPK Reporting Section Ali Fikri at the KPK's Red and White Building, Jakarta, Monday (27/3).
The spokesperson with a background in prosecutors was reluctant to reveal the identities of the suspects and the complete construction of the case.
This is in accordance with the policy of the KPK leadership in the era of Firli Bahuri Cs, who just announced the suspects and construction of cases along with efforts to force arrest and detention.
Based on sources CNNIndonesia.com, the KPK has ensnared 10 people as suspects.
The KPK team searched the ESDM Ministry's Directorate General of Mineral and Coal Office in Tebet, South Jakarta and the ESDM Ministry's headquarters in Central Jakarta today.
"There are 10 suspects, including LFS et al," said the source CNNIndonesia.com.
This source tells the beginning of the case. At one time, he explained, the suspects compiled a list of receipts for tukin where the nominal had been inflated.
"Then the amount is marked up so that the amount of tukin received by the suspects is much greater than it should be each month," said the source.
From this case, the state allegedly suffered losses of up to tens of billions of rupiah.
Head of the KPK Reporting Section, Ali Fikri, said that the suspects had committed illegal acts that caused losses to state finances. The suspects are most likely to be charged under Article 2 paragraph 1 or Article 3 of the Law on the Eradication of Corruption Crimes (UU Tipikor).
"The money was then allegedly enjoyed by these individuals, who then allegedly used it for their personal needs, there was the purchase of assets, there was also for 'operational' things, yes. Including the allegations in order to fulfill audit processes by the BPK," said Ali.
(ryn/off)
(Gambas:Video CNN)