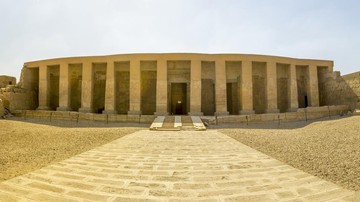 Jakarta, CNN Indonesia —
The discovery of more than 2,000 ram's head mummies at the Abydos Temple of King Ramses II, Egypt, has caught the world's attention. Thousands of mummies are predicted to be more than 4 thousand years old.
The Institute for the Study of the Ancient World, New York University carried out an excavation mission at a location 435 km south of Cairo, the capital of Egypt. The mummies are believed to be around 4,300 years old or from the Sixth Dynasty to the Heroic Age.
Archaeologists also found a collection of mummified animals such as dogs, wild goats, deer and ostriches. The animal mummies are believed to have been left at the Temple of Abydos in memory of King Ramses II after a thousand years of his death.
Still according to archaeologists, the animals were used in the rituals of worshiping the pharaoh Ramses, which means that even though his death had occurred 1,000 years earlier, Ramses II was still considered a great ruler so that he was deified by the people of ancient Egypt.
The head of this research, Dr Sameh Iskandar, said that apart from animal mummies, another discovery was in the form of a large building that had walls 5 meters thick from the sixth dynasty of the Old Kingdom.
The building is estimated to have been built in the period 2345-2181 BC or 1,000 years or older than Ramses II. The building contains statues, tree remains, clothing, shoes, and even papyrus, a thick paper-like material used in ancient times as a place to write.
"This discovery brings back a sense of the ancient landscape of Abydos before the construction of the temple of Ramses II," said Iskandar, as quoted from Science Alert, Tuesday (28/3).
The Temple of Abydos is one of Egypt's major archaeological sites that is rarely visited. This temple was a tomb for the early ancient Egyptian empire and a pilgrimage center for the cult of the god Osiris.
This temple is one of a number of temples built to honor the reign of Ramses II, who according to Ancient Egyptian history is one of the greatest pharaohs who ever ruled ancient Egypt.
(wow)
(Gambas:Video CNN)