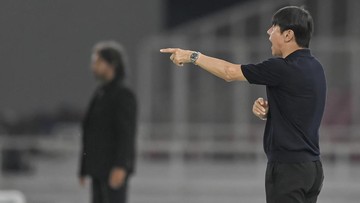 Jakarta, CNN Indonesia —
Shin Tae Yong frowned when asked about football and politics related to the 2023 U-20 World Cup which is currently a hot issue.
This man from South Korea held his breath for a moment, then took the microphone. Shin only said one sentence, as he put the microphone back on the press conference table.
"Sport is sport," said Shin in South Korean, which was translated by interpreter Jeong Seok Seo during a press conference after the match at Patriot Stadium, Tuesday (28/3).
Hearing Shin's short remark, the journalists present smiled too. Shin then showed a flat expression while shrugging his shoulders and both hands as a sign of reluctance to make a long comment.
Political friction with football is currently being discussed in Indonesia. This is none other than because the 2023 U-20 World Cup which will take place in Bali is in danger of being moved.
This is because a number of community groups and political parties have refused to allow one of the contestants, Israel, to play in Indonesia. Israel was refused to play in Indonesia because it does not have diplomatic relations with Indonesia.
The governor of Bali, Wayan Koster, was the trigger. On March 14, 2022, Koster sent a letter to the Indonesian Menpora with a statement refusing Israel to play on the Island of the Gods.
Because of Wayan's orchestration, FIFA made a bitter decision. The draw for the 2023 U-20 World Cup which will take place in Bali on March 31 has suddenly been cancelled.
A moment later, the issue that Indonesia's host status emerged would be revoked. Then another issue arose, FIFA appointed Peru as a replacement and would give harsh sanctions to PSSI.
Due to this commotion, President Joko Widodo then spoke up. He asked that politics and football not be mixed up, just like what Shin said after the Indonesia versus Burundi match.
"So don't mix up sports affairs and political affairs," said Jokowi during a press statement at the Merdeka Palace after breaking the fast of Ramadan on Tuesday (28/3).
(Gambas:Video CNN)
(abs/jun)