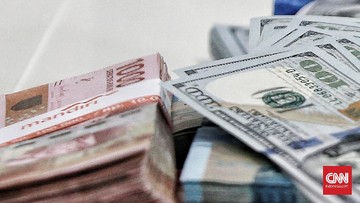 Jakarta, CNN Indonesia —
The rupiah exchange rate was perched at IDR 15,085 per US dollar on Tuesday (28/3) this afternoon. Garuda's currency strengthened 78 points or 0.51 percent from the previous trade.
Meanwhile, the Bank Indonesia (BI) Jakarta Interbank Spot Dollar Rate (Jisdor) reference rate put the rupiah strengthening to Rp. 15,088 per US dollar in today's trading.
Currencies in the Asian region have varied movements. The Singapore dollar recorded strengthened 0.17 percent, the Chinese yuan minus 0.08 percent, the Japanese yen plus 0.26 percent, and the Hong Kong dollar stagnated.
Meanwhile, the South Korean won strengthened 0.19 percent, the Philippine peso weakened 0.35 percent, and the Malaysian ringgit strengthened 0.38 percent.
Meanwhile, the currencies of developed countries are compactly moving in the green zone. The European euro strengthened 0.23 percent, the British pound plus 0.17 percent, the Swiss Franc plus 0.13 percent, the Australian dollar plus 0.42 percent and the Canadian dollar plus 0.01 percent.
DCFX Futures analyst Lukman Leong said the rupiah strengthened amid risk-on sentiment due to easing fears of banking turmoil. Risky assets and currencies have simultaneously increased.
"The US dollar weakened broadly with bond yields rising. But it was not triggered by expectations of the Fed's interest rates but the release of US bonds by investors," he told CNNIndonesia.com.
(Gambas:Video CNN)
(fby/sfr)