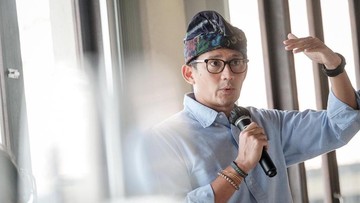 Jakarta, CNN Indonesia —
The Ministry of Tourism and Creative Economy (Kemenparekraf) launched an interesting guidebook on a row of mosques that can be explored on various homecoming routes.
During this year's homecoming, according to Menparekraf Sandiaga Uno, the Ministry of Transportation will anticipate the movement of up to 130 million people or a jump of 14.2 percent.
"The mother of all movements of domestic tourists, maybe this is the second largest after China with regard to Chinese New Year. Last year we have directed it to tourist villages, this time we are moving to Mudik Exploring Mosques," Sandiaga explained in The Weekly Brief With Sandi Uno , Monday (27/3).
Meanwhile, Deputy for Tourism Products and Event Organizers, Vinsensius Jemadu, said the high euphoria of going home could be in line with the launch of the "Mudik Exploring the Mosque" e-booklet.
He added, Kemenparekraf distributed information to travelers about mosques on the homecoming route that have selling points or unique experiences, so they can be visited.
"This is one of the special interest tourism products, for sure there must be a lot of market segments. Not only Muslims but non-Muslims, why because there are eight sub-themes of this mosque exploring tour," said Vincent.
"Our ultimate goal is that we want to be number one in the global Muslim index, because at the moment we are still number two. And this e-booklet can be downloaded at www.indonesia.travel," he said.
The Religious and Halal Tourism Working Group Team has concluded, of the 340 potential existing mosques, there are 27 mosques that can be explored by people who are going home this year, because they are located at four points of the homecoming route, based on data from the Ministry of Transportation.
The following is a list of the best mosques that travelers can explore.
Trans Sumatra Line
1. Baitus Shobur Lampung Mosque
2. Al-Hakim Padang Mosque
3. Great Mosque of West Sumatra
4. Great Mosque of Madani Islamic Center
5. Baiturrahman Grand Mosque
Pantura Line
1. Pantura Mosque
2. Cut Meutia Mosque
3. Central Java Grand Mosque
4. Baiturrahman Grand Mosque, Central Java
5. Great Mosque of Demak
6. Al-Aqsa Mosque, Menara Kudus
7. Masjid Al-Akbar
8. Sunan Ampel Mosque
9. Sumenep Jamik Mosque
Panel Line
1. Great Mosque of the Sultanate of Banten
2. Masjid Raya Al A'zhom
3. Masjid Raya Al-Jabbar
4. Pathok Mosque Negara Mlangi
5. Jogokariyan Mosque
6. Great Mosque of Jami' Malang
Trans Java Toll Road
1. Masjid At-Taqwa
2. Nurul Kalam Grand Mosque, Pemalang
3. Klenteng Krajan Dukuh Salatiga Mosque
4. Masjid Raya Sheikh Zayed
5. The Grand Mosque of the Surakarta Palace
6. Sidoarjo Grand Mosque
7. Raudlatul Jannah Great Mosque.
(wow)
(Gambas:Video CNN)