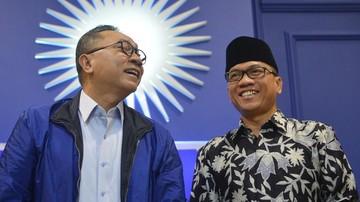 Jakarta, CNN Indonesia —
Deputy Chairperson (Waketum) of PAN Yandri Susanto said that PAN was still making calculations about the grand coalition discourse in the 2024 Presidential Election (Pilpres).
According to Yandri, PAN will be careful and pay close attention to the coalition's opportunities. According to him, there are many things that need to be agreed upon.
"Why form a coalition like this, what tasks do they get, then who gets which chair, it must be agreed upon," said Yandri at the parliament complex, Tuesday (28/3).
He stressed that so far no party or coalition has agreed on a pair of presidential and vice-presidential candidates. Including, the United Indonesia Coalition (KIB) which consists of PAN with PPP and Golkar.
Therefore, said Yandri, communication between political parties is still dynamic. He is also not worried if KIB members establish communication with other parties.
"There is nothing that can be concluded yet, including whether anyone will join or form a grand coalition, that's still being discussed," said Yandri.
"Therefore, communication can't be hindered, can't be closed," he added.
Previously, the general chairman of the Golkar Party, Airlangga Hartarto, conveyed the grand coalition discourse. He admitted that he opened up the opportunity to form a grand coalition to win the 2024 elections.
"Big coalitions everywhere benefit Indonesia, so wait for the game date," said Airlangga in Central Jakarta, Saturday (25/3).
(thr/tsa)
(Gambas:Video CNN)