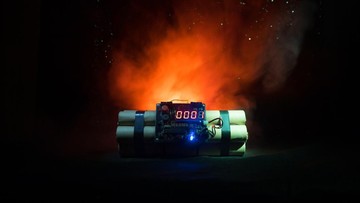 Jakarta, CNN Indonesia —
An object suspected of being a bomb was found in front of the Sidang Jemaat Allah Church, Metro, Bandar Lampung, Tuesday (28/3).
Kabid Humas Polda Lampung Kombes Pol Zahwani Pandra Arsyad confirmed that the rectangular object wrapped in black plastic was not a bomb.
Pandra explained that the object in the form of a package was addressed to the Sidang Jemaat Allah Church with the address Jalan AH Nasution, Metro City. The object found at the front door of the church had caused a commotion among the residents.
"Kapolres Metro AKBP Heri Sulistyo Nugroho together with Sat Intelkam personnel and a number of Sabhara personnel went to the location to confirm the truth of the information regarding the suspicious package. It turned out that it was not a bomb as the community thought," said Pandra.
The discovery of these objects began when Pastor Alex Takarbessy found a package on a long bench in front of the church door on Tuesday night around 19.00 WIB. Feeling that he didn't order something, he then contacted his wife Mariam Mahdalena (Martha) who happened to be in Manado, North Sulawesi, to ask about the package.
"However, his wife did not feel that she was sending a package. Because she was curious, Mr. Alex immediately contacted the number listed on the package box. After that, his wife's number was written, where the cellphone number was lost in 2015 in Manado," he said.
After being investigated, the package appeared to have been sent by a member of the congregation, an Martini alias Ciwa.
Police officers from Polres Metro opened the package and it was true that the package contained Holy Communion equipment containing bread, wine cups and plastic cups.
"Until this news was released, currently the location of the TKP is safe and conducive. We urge the public to continue their activities as usual, if there is anything suspicious in their area, immediately report it to the police," Pandra concluded.
(tim/isn)
(Gambas:Video CNN)