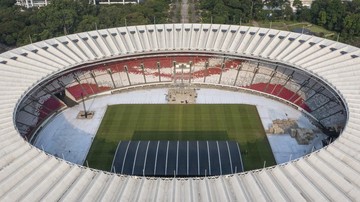 Jakarta, CNN Indonesia —
The shocking news came on Monday (27/3), after football observer Isaiah Oktavianus said the 2023 U-20 World Cup in Indonesia was cancelled, and FIFA appointed Peru as a substitute host.
The 2023 U-20 World Cup in Indonesia is still in turmoil after FIFA canceled the draw which was supposed to take place in Bali, Friday (31/3).
The cancellation of the drawing by FIFA occurred after the Governor of Bali I Wayan Koster refused Israel's arrival. As a result of this decision, Indonesia is deemed unable to provide security guarantees to Israel as a participant.
After Wayan Koster's rejection of Israel and the cancellation of the draw by FIFA, the fate of the 2023 U-20 World Cup was uncertain. In addition to rumors of threats to revoke host status, Indonesia is also claimed to be threatened with FIFA sanctions.
News is circulating that FIFA has chosen to appoint Peru as a replacement country for Indonesia as host for the 2023 U-20 World Cup.
"And the latest news to answer all the pros and cons came this Sunday afternoon. FIFA as the owner of world football has written to the Indonesian government and confirmed that the U-20 World Cup in Indonesia is cancelled," said Yesayas on RAY Soccer TV's YouTube account, Sunday ( 26/3).
"Where did it go? FIFA has decided that Peru as a substitute for hosting Indonesia will host the U-20 World Cup," Isaiah added.
There is no definite statement regarding the certainty of this information. Isaiah only acknowledged that he received the news exclusively.
"This information is A1 information obtained by Ray Soccer TV on the afternoon of this week, March 26, that the government has not officially conveyed, but this news will almost certainly become the truth later," said Isaiah.
Peru is a country that was defeated by Indonesia in the bid to host the U-20 World Cup which took place four years ago.
Meanwhile, besides Peru, there are other countries that are reportedly ready to replace Indonesia in holding the U-20 World Cup, such as Argentina and Qatar.
(Gambas:Video CNN)
(sry)