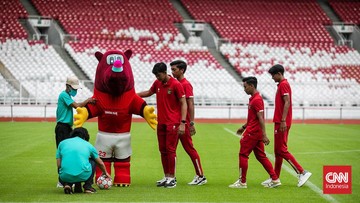 Jakarta, CNN Indonesia —
Rumors of the cancellation of the 2023 U-20 World Cup continued to roll after FIFA removed news about the official soundtrack by Indonesian children.
FIFA and Weird Genius released the official song for the U-20 World Cup with the title 'Glorious' on Friday (24/3). The video clip for this song was automatically uploaded to FIFA's official website on the same day.
The music video for the age group soccer party went viral on social media and received many positive responses from netizens.
However, news of the song Glorius sung by talented Indonesian singers has now disappeared from FIFA's official website.
CNNIndonesia is trying to trace the digital footprint of the news through the initial published link. However, we never found it.
"Ooops… We're Sorry! This page cannot be found. Continue on fifa.com," the statement was written on the page.
The disappearance of the news entitled "FIFA and Weird Genius tease electrifying Official Song" has further added to the speculation over the continuation of the 2023 U-20 World Cup which will be held in Indonesia.
However, the news and snippets of the song can still be watched on fifaplus with the following link.
Previously, FIFA had canceled the draw for the U-20 World Cup which was planned to be held in Bali on March 31.
Doubts about the group phase draw began to emerge when the Governor of Bali, Wayan Koster, called for an Israeli ban from playing there. The reason is because it is a form of Indonesia's diplomatic support for the Palestinian cause.
The 2023 U-20 World Cup is planned to be held in Indonesia from 20 May to 11 June 2023. This championship will be participated by 24 countries including the U-20 Indonesian National Team.
(Gambas:Video CNN)
(jun/sry)