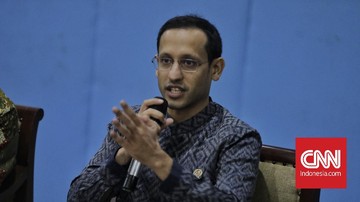 Jakarta, CNN Indonesia —
Minister of Education, Culture, Research and Technology (Mendikburistek) Nadiem Anwar Makarim abolished the reading, writing and arithmetic tests (calistung) in the acceptance of new students (PPDB) at the SD/MI level.
This was conveyed by Nadiem in the Launching of Freedom Learning Episode 24: Fun Transition from PAUD to SD which was broadcast on YouTube, Tuesday (28/3).
Initially, Nadiem explained that there was a misunderstanding or misunderstanding about calistung. However, he said that does not mean that calistung is an unimportant topic to be taught in PAUD.
Nadiem believes that the method of teaching calistung to children is also wrong. Because, making children think school is not a fun thing.
"In my opinion, this is something that makes me very upset. That the calistung test is used as a criterion for children to enter elementary school. This is something that can no longer be tolerated," said Nadiem.
According to Nadiem, the perception of calistung is the only thing that is important in early childhood learning brings a number of consequences for children.
The consequence that he considers the most frightening is that children feel that learning is not fun from a young age. That perception, he said, would be very difficult to roll back.
He explained that another consequence of this exclusive focus on calistung is the loss of a child's emotional regulation abilities. Nadiem assesses that the ability to regulate emotions is even more important than calistung because it relates to children's communication and learning abilities in the future.
"So with that in mind, our current policy, Merdeka Learning Episode 24, will mandate the education unit to first remove all types of calistung tests from the process of admitting our students to elementary school. This is the first thing, this is what we have to eliminate. There is no gray area here. This is a child's right to go to elementary school," explained Nadiem.
Nadiem emphasized that SD should not feel that it has no responsibility at all to teach calistung to students because it is considered the duty of PAUD. He claims that there are still many children in Indonesia who do not have the opportunity to attend PAUD before entering elementary school.
The calistung test, as part of the process of accepting students at the elementary level, is considered by Nadiem to have violated Government Regulation Number 17 of 2010 concerning the Management and Implementation of Education and Regulation of the Minister of Education, Culture, Research and Technology Number 1 of 2021 concerning Acceptance of New Students.
"So we hope that this Merdeka Belajar episode will emphasize this PP regulation and also the Permen which in black and white violates the calistung test as a criterion for entering elementary school," he explained.
Not only regarding calistung, Nadiem also gave a mandate to hold an orientation period at the PAUD and SD levels.
"Second, we mandate that for every time a child enters PAUD or the child enters elementary school for the first time, there will be an introductory period or some kind of orientation for two weeks. So for the first time a child enters PAUD there is an orientation period of two weeks, there is an introductory period. Children when entering elementary school, there are also two weeks of the introductory period," he said.
The third mandate conveyed by Nadiem is to apply learning that builds the six foundational abilities of children, both in PAUD and SD.
Nadiem then described the six basic abilities of children that he alluded to, namely first, religious values ​​and morals. Second, social and language skills to interact.
Then, emotional maturity for activities in the learning environment. In addition, cognitive ability to carry out learning activities such as basic literacy and numeracy.
Then, the development of motor skills and self-care to participate in the learning environment independently. Finally, the meaning of positive learning.
"The six abilities must be built on an ongoing basis. From early childhood education to grade 2 at the basic education level," he added.
(pop/isn)
(Gambas:Video CNN)