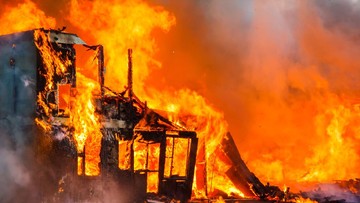 Jakarta, CNN Indonesia —
Thirty-nine immigrants were killed and 29 others injured in a fire at the National Migration Institute (INM) facility in Ciudad Juarez, Mexico, Tuesday (28/3).
The fire was caused by a mat that was burnt by a mass of migrants holding a protest.
"The fire was started by migrants protesting against their planned deportation, killing at least 39 people," authorities said.
Dozens of ambulances were deployed to evacuate the victims.
An AFP journalist saw forensic personnel remove a dozen bodies from the INM parking lot. Several other bodies were laid down and covered with blankets.
According to INM, the venue houses 68 adult males from Central and South America.
"Migrants set fire to themselves during the demonstrations after they learned that they would be deported," said President Andres Manuel Lopez Obrador.
"They put a mat at the door of the shelter and burned it in protest, not imagining that it would lead to this terrible tragedy," he continued.
Many migrants have been detained at the facility in recent days after local authorities arrested street vendors, and foreigners or unidentified people from the area.
A Venezuelan woman named Viangly said she was looking for information about her 27-year-old husband who had been detained there. She said her husband had documents allowing him to remain in Mexico.
"He was taken away in an ambulance," he told AFP.
"They (immigration officers) don't tell you anything. A family member can die and they don't tell you he is dead," Viangly said through tears.
(tim/isn)
(Gambas:Video CNN)