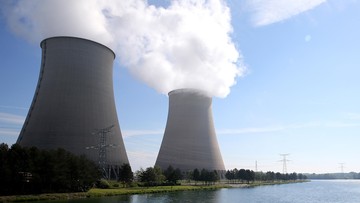 Jakarta, CNN Indonesia —
PT ThorCon Power Indonesia (TPI) plans to build the first nuclear power plant (PLTN) project in Indonesia. The plant is planned to have a capacity of 500 megawatts (TMRS500).
Operations Director of PT ThorCon Power Indonesia Bob S Effendi revealed that the company has prepared an investment of around IDR 17 trillion to build a nuclear power plant with a thorium reactor. The nuclear reactor is planned to be built at a shipyard in South Korea.
Once finished, the reactor ship will dock at the port that will be built on Gelasa Island, Bangka-Belitung Islands.
"Indeed, the investment is Rp. 17 trillion. We are not building a planting in Indonesia, we are building it in Korea, on a ship, but what is being built here (Indonesia) is more about the Gelasa Island, the port and also the non-vision test facility," Bob said in a press conference at the office of the Nuclear Energy Monitoring Agency (BAPETEN), Central Jakarta, quoted from Detik, Tuesday (28/3).
After operating, Bob did not rule out the possibility of building a nuclear reactor factory in Indonesia. It is possible that the factory will be built in Bangka Belitung, or more precisely on Gelasa Island, after 2030.
"In the future, this PLTN, which was originally built in Korea, will open a factory in Indonesia, that is our commitment," he explained.
The company is currently continuing technical and economic studies. In 2019, state-owned shipyard PT Pal Indonesia signed an agreement with Thorcon Internasional Pte Ltd to study the development and construction of the nuclear power plant.
Today, PT TPI Nuclear Safety Senior Manager Tagor Malem Sembiring signed a 3S Consultation Plan with the Director for Nuclear Material and Installation Monitoring Arrangements at the Nuclear Energy Supervisory Agency (Bapeten). Haendra Subekti.
In addition, the company also submitted a High Level Safety Assessment (HLSA) document which was compiled with Spanish nuclear engineering consultant Empresarios Agrupados (EA) and the UGM Department of Nuclear Engineering and Engineering Physics (DTNTF).
Based on the results of the review and regulatory framework, Bapeten assessed that the TMSR500 (conceptual design) was designed to be able to mitigate the Fukushima accident and other external hazards, as well as typical Indonesian external hazards.
"We signed the handover document from PT ThorCon to BAPETEN. This document contains the PLTN development plan and all the required documents," said Acting Head of BAPETEN Sugeng Sumbarjo.
When the project is completed, Safety, Security, and Safeguards (3S) consultations will be held regarding the PLTN design.
"In this submission it is important that there is a roadmap or agenda starting today until 2029 where Thorcon will gradually submit the necessary documents then BAPETEN will also carry out consultations, before entering permits," he explained.
(Gambas:Video CNN)
(sfr)