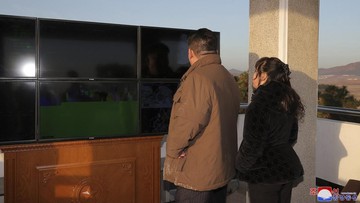 Jakarta, CNN Indonesia —
Kim Jong Un's daughter, Kim Ju Ae, drew attention for wearing a luxury jacket worth US$2,800 or the equivalent of Rp.42 million while monitoring missile launches last week, when North Korea was in crisis.
Kim Ju Ae's clothes became a topic of conversation after her photo accompanying her father was published last week. In the photo, Kim Ju Ae is seen wearing a black velvet jacket.
Kim Ju Ae's every move has always attracted public attention, to the point that netizens and foreign media immediately searched for the jacket brand.
Based on a search by The Washington Post, the jacket was designed by Christian Dior, which retails for US$2,800 in the United States.
However, The Washington Post could not confirm whether the jacket Kim Jue Ae was wearing was genuine or fake.
Kim Ju Ae's luxurious appearance itself has often raised questions. In February, North Koreans complained about Kim Ju Ae.
A North Korean citizen complained to Radio Free Asia because he was confused to see Kim Ju Ae living in luxury, while the people were in trouble due to the crisis.
"I am angry because my situation is very difficult, while Kim Ju Ae, who we all know can eat and live well, often appears on TV in her luxurious clothes," said the North Korean.
Other residents also claimed to have noticed Ju Ae was so healthy compared to other children in North Korea. They could see how healthy Ju Ae was from her round cheeks.
"People say, 'He must be eating well. His face is so white and round like the moon. Most people can't eat until their cheekbones stick out more than before," said the resident.
Lately, various North Korean media have often posted photos and videos of Kim Jong Un's daughter. Some observers see the campaign as a way for Kim to introduce his future successor.
(Gambas:Video CNN)
In the photos, Ju Ae always wears luxurious clothes, sometimes with a black robe with gold buttons and high quality leather gloves.
Meanwhile, North Koreans live miserably because of the crisis. The Associated Press reports North Korea will face a shortage of 1 million tons of wheat this year, or about 20 percent of its annual need.
Not only because of the contrast in life, residents also criticized Ju Ae's appearance because North Korea itself upholds communist culture.
North Korea also often punishes school children who follow capitalist culture, such as growing hair long or following fashion trends.
"Kim Ju Ae's clothes and appearance are very different from what ordinary teenage girls are allowed to wear," said one resident.
(has)
(Gambas:Video CNN)