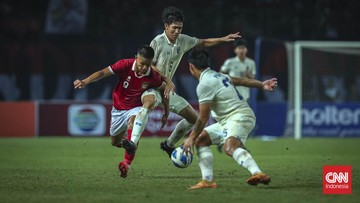 Jakarta, CNN Indonesia —
Indonesian U-20 national team player Hokky Caraka asked General Chair Erick Thohir to fight for Indonesia to continue to host the 2023 World Cup.
The group of Indonesian U-20 players took the opportunity to attend as spectators at the FIFA Matchday between the senior teams of Indonesia vs Burundi at Patriot Candrabhaga Stadium, Tuesday (28/3).
After the match, the players represented by Hokky Caraka made a wish to Erick. The reason is, the man who also serves as Minister of BUMN was going to meet FIFA officials in Doha, Qatar.
"We players have also tried our best. To practice and show the talent we have in Indonesia," said Hokky Caraka in a video recording uploaded to PSSI's Instagram.
"Please fight for everything, sir. We believe that you can fight for us! Good luck, sir," continued the U-20 Indonesian striker.
Erick didn't say a word and just nodded. Erick's face looked sad while holding back tears.
A few moments later, Erick uploaded a moment with the U-20 Indonesian National Team players on his personal Twitter social media.
"For the future of the Indonesian U-20 Team players who have worked hard, for the sake of supporters who want to see Indonesian football at the world level. Bismillah, I wish the best for Indonesia," Erick wrote.
Speculation about changing the host for the 2023 U-20 World Cup has been rolling fast after FIFA canceled the draw which was originally to take place in Bali on Friday (31/3).
Erick also had to carry out diplomacy with FIFA to find a solution to the situation that occurred in Indonesia regarding the status of the Israeli national team ahead of the U-20 World Cup.
(Gambas:Video CNN)
(jun)