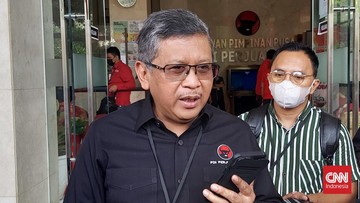 Jakarta, CNN Indonesia —
PDIP Secretary General Hasto Kristiyanto claims to have lobbied Joko Widodo's government so that the Israel National Football Team (Timnas) does not compete in Bali in the U-20 World Cup.
"I personally have been lobbying since August 2022 to the government to provide input," said Hasto in the CNN Indonesia TV Political Show, Monday (27/3).
According to Hasto, there is a potential danger associated with Israel's presence in Indonesia. However, he said the situational lobby was exacerbated by the Israeli side's statement.
"It got worse after the last Minister of Finance from Israel stated how the Palestinian nation does not exist," he said
Hasto said that many parties protested against the Israeli Minister of Finance's statement. Starting from Western Europe, the United States, and the Vatican. Therefore, PDIP sees that there is a tendency for these problems to be related to religion.
"However, this is not a question of religion, this is a question of independence as the right of all nations," he said.
He also said that it was not only the Governor of Bali, Wayan Koster and the Governor of Central Java, Ganjar Pranowo who were keen to reject Israel's arrival. But rejection also occurred from PDIP cadres in Surabaya, East Java. Hasto claims that PDIP has an ideological and historical awareness of Palestine.
"Especially after we saw various documents on the Asian-African Conference that supported Palestinian independence," said Hasto.
Take care of Indonesia's spirit
Hasto also emphasized the refusal of the Israeli national team to return to their homeland as an effort to protect Indonesia's dignity.
"The benefits of (refusing) Pak Wayan Koster and Pak Ganjar Pranowo emerged from an ideological awareness as party cadres to protect Marwah Indonesia," said Hasto.
However, according to him, PDIP is still looking for a way so that the Israel National Team can still play in the U-20 World Cup.
"We believe Mr. President Jokowi is able to find a very good middle ground, for example the Israel match being held in Singapore," he said.
He said the letter regarding the Israeli national team's refusal to go to Bali signed by Koster was a closed document.
"However, it leaked. It means that it is the will of Almighty God for us to respond as best we can," he said.
"The important thing is that our dream of building football is far more important than just being a football event organizer," he added.
He also highlighted the issue of the rejection of the 2 Governors which had an impact on canceling the draw. According to him, this is a consequence.
"An attitude that requires firmness in principle brings consequences, yes that is part of the consequences of choices," he said.
Hasto said the consequences were better than Bali being threatened. Because, according to him, this needs to be watched out for.
"Because Bali will be very good at raising international issues. We provide 0 percent tolerance regarding potentials that can cause problems in Bali," said Hasto.
"Because Bali's human values ​​will grow into a tradition of people's lives. This is being guarded by Pak Koster," he said.
(psr/DAL)
(Gambas:Video CNN)