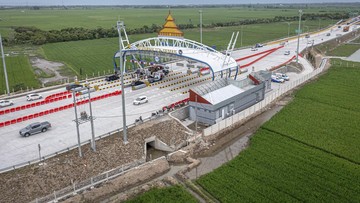 Jakarta, CNN Indonesia —
The Toll Road Management Agency (BPJT) of the PUPR Ministry targets that there will be 13 toll roads that will operate until the end of 2023.
Head of BPJT Danang Parikesit said that since the beginning of the year until March there have been 3 toll road sections that have been operating, with a total length of 24.39 kilometers (km). Until the end of the year, there will be another 13 toll roads with a length of 309.78 km which are expected to be operational.
"Furthermore, until the end of 2023, there will be an additional 309.78 km of operating toll roads," said Danang at the DPR RI Commission V Work Meeting, Tuesday (28/3).
In detail, the toll roads that have been operating until March are Semarang-Demak section 2 with a length of 16.01 km, Bekasi-Cawang-Kp. Melayu 2A is 4.88 km long and Cinere-Jagorawi (JORR II) section 3A is 3.5 km long.
Meanwhile, the 13 additional toll roads which are targeted to operate by the end of the year include:
Section 4-5 of Cileunyi-Sumedang-Dawuan with a length of 28.2 km
Ciawi-Sukabumi section 2 is 11.9 km long
Cibitung-Cilincing (JORR II) section 4 with a length of 7.7 km
Cimanggis-Cibitung (JORR II) section 2 with a length of 23.01 km
Serpong-Cinere (JOR II) section 2, 3.5 km long
Sigli-Banda Aceh sections 5 and 6 are 13.2 km long
Kuala Tanjung- Parapat High Cliff section 1-2 along 38.45 km
Section 4A of Pasuruan-Probolinggo with a length of 8.57 km
Jakarta-Cikampek II South package 3 along 31.25 km
Serpong-Balaraja section 1B is 5.4 km long
High Cliff Range (Indrapura) 47.6 km
Binjai-Langsa (Stabat-Tanjungpura) along 26.2 km
Sp. Indralaya-Prabumulih along 64.7 km.
Apart from that, the government is also preparing 12 functional toll road sections with a length of 217.2 km which can be used temporarily during this year's Eid homecoming period, namely:
Cinere-Jagorawi Toll Road Section 3B (Krukut-Limo) 2.2 km long
Serpong-Cinere Toll Road Section 2 (Pamulang-Cinere) is 3.6 km long
Section 4 of the Cibitung-Cilincing Toll Road (Tarumajaya-Cilincing) with a length of 7.3 km
Cileunyi-Sumedang-Dawuan toll road (Cimalaka-Dawuan) is 28.2 km long
The Sigli-Banda Aceh Toll Road (Blang Bintang-Baitussalam) is 13.2 km long
Ciawi-Sukabumi Toll Road Section 2 (Cigombong-Cibadak) with a length of 11.9 km
Section 2A of the Cimanggis-Cibitung Toll Road (Jatikarya-Cikeas) with a length of 3.5 km
Section 4A of the Pasuruan-Probolinggo Toll Road (East Probolinggo-IC Gending) with a length of 8.6 km
Kuala Tanjung -Tebing Tinggi-Parapat Toll Road (Kuala Tanjung-Pematang Siantar) is 96.5 km long
Jakarta Cikampek II Selatan Toll Package 3 (Kutanegara-Sadang) is 8.5 km long
Solo-Yogyakarta part of section 1 is 6.1 km long
Stabat-Tanjung Pura part of section 2 is 7.2 km long.
(Gambas:Video CNN)
(ldy/pta)