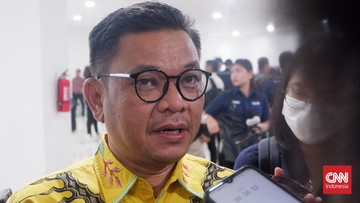 Jakarta, CNN Indonesia —
West Java Golkar DPD chairman Ace Hasan explained the issue of the grand coalition which had been mentioned by Golkar chairman Airlangga Hartarto while attending a joint iftar at the NasDem DPP office, Saturday (25/3).
Ace said the grand coalition that was mentioned by Airlangga was in order to gather political strength to face the 2024 presidential election.
"This can consolidate with regard to how the 2024-2029 government can be stable. So it is still possible to do a grand coalition if the political dynamics are still very open," said Ace at the Golkar DPP headquarters, West Jakarta, Tuesday (28/3).
Ace said the grand coalition called Airlangga has the potential to combine the United Indonesia Coalition (KIB) with other coalitions.
When asked whether KIB would join the Coalition for Change fronted by NasDem with PKS and Democrats, he replied that this process was still in the exploratory process.
"Still in the process of exploratory," said Ace.
"Actually, the grand coalition has already been implemented and now it's already a grand coalition. But for 2024, it's certainly possible to push for a grand coalition," he added.
Ace also highlighted the issue of the meeting between Airlangga, Head of NasDem Surya Paloh, and former president Jusuf Kalla when breaking the fast together.
When asked whether there were any directions from JK so that the Golkar party would come together with the Coalition for Change at that meeting, he replied that the moment was just a friendly visit.
"If Mr. Airlangga is at the NasDem event, of course that's part of the usual political gathering. If he's invited, he'll definitely come," said Ace.
"Of course, as chairman of Golkar, Pak Airlangga also has his own views on determining the coalition or future choices he will take," he added.
However, he stressed that the directive from Airlangga was the result of the 2019 national meeting (Musra).
"When talking, it's normal for Pak Airlangga to talk to Pak Surya Paloh, Pak Surya is a senior from the Golkar Party. I think the learning process is normal and it's normal to exchange ideas," said Ace.
Previously, the Ketum of the Golkar Party, Airlangga Hartarto, was asked whether he was offered an offer to become the vice presidential candidate from the former Governor of DKI Jakarta, Anies Baswedan.
However, he did not answer the question and immediately entered his car.
(psr/kid)
(Gambas:Video CNN)