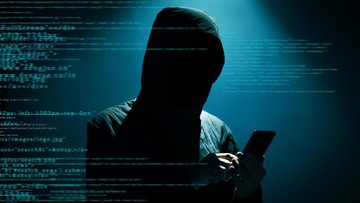 Jakarta, CNN Indonesia —
Online scammers haven't given up on using the request mode to download data in the .apk format to steal personal data via chat. This time MyTelkomsel is the contact guise.
The .apk (or apk) file format itself has changed faces several times, namely as a package courier, wedding invitation, electronic ticket (eTLE), internet billing, job vacancies, and now cellular operators.
"Telkomsel customers are advised to increase their vigilance not to download files or access random and unclear links," Saki Hamsat Bramono, Vice President of Corporate Communications of Telkomsel, said in a press release.
"Don't immediately believe if there is a direct gift offer, and don't provide confidential personal data or data on financial services such as banking."
Initially, potential victims received short messages from fraudsters via a number of short message platforms, such as WhatsApp and Telegram.
Senders claiming to be MyTelkomsel ask customers to download (install) an .apk file or certain fictitious links which usually contain malware or malicious programs.
Telkomsel said that this kind of crime mode generally uses the social engineering method (soceng).
Namely, manipulation techniques by exploiting human error in order to gain access to retrieve personal information or valuable data, such as bank accounts, which are directly linked to the user's device.
"Telkomsel urges the public not to respond to the intended request and not to share any code with unknown parties," the company statement continued.
If you access and then download the .apk file, the potential victim will be asked to grant access permissions to several applications that allow criminals to steal confidential data directly from the potential victim's device.
Among them, photos, videos, SMS, and account access to digital or fintech banking services.
"If access has been granted to the perpetrator, it is very possible for the criminal to have control over the victim's device and know all confidential information such as PINs, passwords and OTP codes."
Telkomsel customers can report attempts of fraud or crime on behalf of this state-owned company by contacting call center 188, SMS to 1166 with the format: DEEP #INDERNUMBER#CONTENT OF DEEP SMS.
In addition, you can send an email to (email protected), or make a report to Telkomsel's official social media account.
"Telkomsel hopes that with increasing customer awareness to continue to be vigilant in using telecommunication and digital services, it can further reduce the potential for being exposed to crime modes that are increasingly evolving following the latest technological developments," concluded Saki.
(Gambas:Video CNN)
(lom/arh)