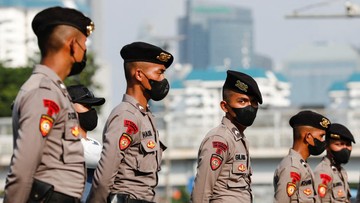 Jakarta, CNN Indonesia —
The Institute for Security and Strategic Studies (ISESS) criticized the DPR Commission III's plan to increase the Polri budget because a survey on Political Indicators showed that the level of public satisfaction with the Bhayangkara Corps reached 70.8 percent.
ISSES Police Observer Bambang Rukminto assessed that the members of Commission III of the DPR RI were too naive if the plan was actually realized. Because, he said, the results of the survey do not necessarily describe the reality of people's satisfaction.
"Where did the survey budget come from, how many and who were the respondents, when and where the survey was conducted, everything can be very subjective and influenced by many things," Bambang told CNNIndonesia.com, Tuesday (28/3).
He suspects that the statement of increasing the budget for the National Police is simply a political move. According to Bambang, this is because in the near future there will be a national agenda that must be guarded, such as the 2024 General Election.
"This budget increase seems to have entered into political rhetoric, bearing in mind that there will be an election in one year. Even without that statement, the need for the police budget apart from the routine one has indeed increased to secure elections," he said.
Bambang also asked Commission III of the DPR to consider carefully if he wanted to increase the Polri budget.
According to him, budget approval must be based on consideration of needs, not mere survey results.
"Increasing the budget of a ministry or agency should be based on the objectivity of the needs of the ministry/agency, not just because of survey results," he said.
Previously, Chairman of Commission III DPR Bambang Wuryanto said the DPR was ready to increase the Polri budget for 2024 following an increase in the level of public satisfaction with Polri in the results of the Political Indicators survey on Sunday (26/3).
The man who is familiarly called Bambang Pacul did not disclose the amount of the increase. He estimates the figure will be between Rp1-2 trillion, from the 2023 Polri budget of Rp111 trillion.
"The Polri budget is very high, Rp. 111 trillion. Don't be kidding. Maybe there will be a two-digit addition later," said Pacul at the parliament complex, Monday (27/3).
He stated that the DPR wanted to give appreciation to the Bhayangkara Corps so that it could improve its performance and gain more public trust.
(tfq/tsa)
(Gambas:Video CNN)