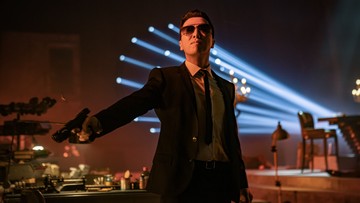 Jakarta, CNN Indonesia —
Donnie Yen admits that he is interested in the life story of Caine, the character he plays in John Wick: Chapter 4. Caine is a blind assassin.
"I want to be involved in a John Wick spinoff centered around Caine," said the Hong Kong actor, as reported by Variety, Monday (27/3) US time.
"There's always a 'talk' like that in Hollywood," he continued, laughing, referring to the ideas of a spinoff from a saga or film.
In John Wick: Chapter 4, Donnie Yen plays Caine who is a retired blind assassin.
However, he is forced to return when he is offered the High Table to hunt down John Wick (Keanu Reeves). Caine, who had been friends with John, was forced to accept the request because his wife and children were at stake.
Donnie Yen himself admits that he really enjoyed the process of making John Wick 4. In the film, Yen not only acts using martial arts as he usually does, but also clashes with Keanu Reeves in a shootout scene.
(Gambas:Video CNN)
"Keanu is a super nice guy. He also likes martial arts. He also always shares about his experiences, (when) working in China, telling us how much he enjoys it all," said Yen.
"(Unfortunately) John Wick never got a release date in China because of the violence. It was considered too radical," he continued.
Apart from the pleasant experience he had playing in John Wick, the top Asian actor had admitted to changing the character of Caine because he was uncomfortable with Hollywood's portrayal.
According to Yen during an interview with GQ, the name of the character he played was originally named and had typical attributes of Asian descent. To him, it's not cool at all and it's corny.
"Before his name was Shang or Chang. Why is he always named Shang or Chang? Why can't he have a name like the others? Why does it have to be so ordinary?" Yen said in early March 2023.
"Then the clothes too, oh, the mandarin collar. Why is everything so casual? It's a John Wick movie. Everyone's supposed to be cool and fashionable. Why can't he be like that?" he continued.
(Gambas:Youtube)
Yen's insistence and criticism was finally heard by the director Chad Stahelski. Yen was also involved in rethinking how his character would look.
According to Variety's report on Wednesday (1/3), Yen then redesigned his character as a tribute to the late Bruce Lee and finally the character was named Caine.
Caine's character finally wears a John Wick suit with an auxiliary stick that can function as a sword.
(yla/end)