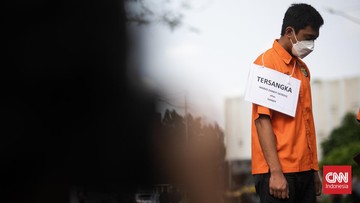 Jakarta, CNN Indonesia —
Cristalino David Ozora alias David, who was represented by attorneys, visited Polda Metro Jaya to discuss the process of restitution or compensation after becoming a victim of abuse by Mario Dandy Satriyo.
The meeting was also attended by the Ministry of Women and Children's Empowerment, the Indonesian Child Protection Commission, the Witness and Victim Protection Agency, and the Mayapada Hospital where David was being treated.
"We discussed the matter of restitution, in today's meeting we discussed further what exactly is the right and it is attached to the victim especially this child," said David's attorney, Mellisa Anggraeni at Polda Metro Jaya, Tuesday (28/3).
According to Mellisa, the meeting was held to discuss David's recovery rights as a victim in the persecution case.
Mellisa also mentioned that the matter of material costs in the recovery process was also discussed. Moreover, he said, the cost is relatively large.
"That's what I meant earlier medically and psychologically, material costs are certain because per day is quite large. To calculate anything, not compensation, but whatever is needed to return the victim's child's condition to its original state," he said.
Furthermore, Mellisa conveyed, the compensation and recovery process is also in accordance with applicable regulations. According to the rules, he continued, two suspects and one child in conflict with the law must fulfill this.
"That the perpetrator will not only be given the threat of criminal punishment, but also must be obliged to restore the child's condition," he said.
Previously, Cristalino David Ozora alias David, who is the son of GP Ansor manager Jonathan Latumahina, was abused at the end of February.
In this case, Mario Dandy and Shane Lukas have been named as suspects in this abuse case. Both have been detained at Polda Metro Jaya Detention Center.
Apart from that, the police have also increased the status of the woman with the initials AG in this case as a child in conflict with the law.
(dis/ain)
(Gambas:Video CNN)