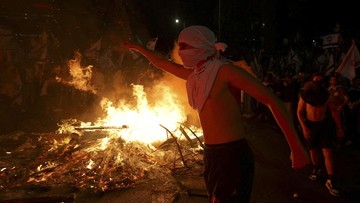 Jakarta, CNN Indonesia —
Clashes broke out after Prime Minister Benjamin Netanyahu delayed an overhaul of the justice system. A number of Arab-Israeli citizens became victims of the attack.
The Jerusalem Post reported that clashes with security forces occurred when two demonstrators held demonstrations in various cities in Israel.
One camp is a supporter of Netanyahu and his plans to overhaul the judiciary, while the other opposes the amendment.
The largest demonstrations were seen in Jerusalem and Tel Aviv. In Jerusalem, tens of thousands of pro-reform demonstrators demonstrated, while in Tel Aviv protesters gathered.
Among the protesters in Jerusalem, dozens of members of the far-right extremist group La Familia joined the demonstration. They were caught on camera attacking some passing Arabs.
In one incident, police said an Arab taxi driver was surrounded by protesters who threw objects into the taxi and banged on the windows.
While trying to escape, the driver was "savagely attacked by rioters causing serious damage to his car," a police statement said. The police arrested three people over the incident.
La Familia itself is a fan club of the Beitar Jerusalem football team. The club is known for being racist and often violent.
Security officials had earlier called for the club to be disbanded as it was deemed a terrorist organisation.
Another video also shows far-right protesters waving Israeli and Likud Party flags while blocking the way of Arab drivers and chanting "may your village burn."
The Times of Israel reported dozens of people were detained for blocking roads and creating public disturbances on Monday night.
Not only in Tel Aviv and Jerusalem, demonstrations in several other areas also ended in chaos. Overall, 53 people were detained for disturbing the order.
(Gambas:Video CNN)
Israel has been in turmoil in recent months after Netanyahu plans to overhaul the justice system to give politicians more control and downplay the role of the Supreme Court.
A number of Israel's main allies, including the United States, questioned Netanyahu's move.
On Monday, it is reported that Netanyahu will announce a decision regarding the ratification of the amendment plan that has become the draft law (RUU).
However, he postponed the decision because the demonstration broke out. He claimed he would give time for dialogue, but stressed that the bill would still be passed.
(blq/has/bac)