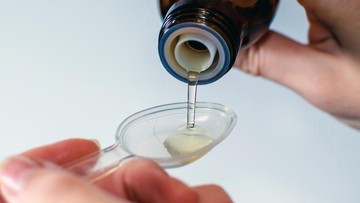 Jakarta, CNN Indonesia —
The Food and Drug Supervisory Agency (BPOM) claims that the cough syrup containing Pholcodine which was withdrawn by the Australian Drug Supervisory Authority (TGA) on 28 February 2023, was not produced and distributed in Indonesia.
The withdrawal of drugs containing Pholcodine was carried out in the country of Kangaroos for reasons of drug safety and public health protection, because a number of people experienced quite serious side effects.
"Based on searching the BPOM database, there are no drug products containing Pholcodine registered in Indonesia," BPOM wrote in a written statement received by CNNIndonesia.com, Tuesday (28/3).
BPOM said the TGA action was carried out after there was data showing that the use of Pholcodine could interact with muscle relaxants given during general anesthesia during surgical procedures, which then caused an aphylactic reaction.
"That is an allergic reaction that appears suddenly, is severe, and life-threatening," added BPOM.
As an effort to put forward the precautionary principle to protect the public from unwanted risks from using these drugs, BPOM is currently exploring the possibility of distribution of these drugs online or in online stores.
"BPOM will also take strict action against any violations found," they said.
BPOM then also appealed to the public to be more vigilant, then to become smart consumers, and to always pay attention to a number of things, including buying and obtaining drugs through official means, namely at pharmacies, licensed drug stores, health centers, or the nearest hospital.
Then buy and obtain hard drugs only with a doctor's prescription at official facilities, namely pharmacies, health centers, or hospitals. Then buying drugs online is only done at pharmacies that already have a license for Electronic Pharmaceutical System Operators (PSEF).
"And implement a CLICK Check (Check Packaging, Label, Distribution Permit, and Expiration) before buying or using drugs. Make sure the product packaging is in good condition, read the product information printed on the label, and the product has a BPOM distribution permit, and has not exceeded its expiration date. Expired," said BPOM.
According to TGA's statement on their official website, Pholcodine is an opioid or narcotic class of drugs, which can be used to treat dry coughs in children and adults, as well as treat flu symptoms in combination with other drugs.
This drug works in the body by directly suppressing the cough reflex in the brain. The TGA investigation follows a review from the European Medicines Agency (EMA) which recommends withdrawing the marketing authorization for a similar product in Europe.
The European findings are supported by a Western Australian study which also showed that Pholcodine has a number of risk factors. TGA as of 9 February 2023 has also received 50 case reports in Australia of suspected anaphylactic reactions related to Pholcodine to neuromuscular blockers, including one death.
(khr/DAL)
(Gambas:Video CNN)