Jakarta, CNN Indonesia —
The IDR 7 million subsidized electric motorbike cannot be sold so far because the purchase verification site, Sispira, is not yet active, as explained by the producers. Even though this program was launched by the Ministry of Industry on March 20.
"We have not yet made a transaction, we are waiting for the readiness of the information system (Sisapira) from the Ministry of Industry," said Wilson Teoh, Director of Operations for Gaya Abadi Perfect, the company that owns the Champion Bike, the producer of Selis, when contacted, Tuesday (28/3).
There are two Selis electric motorbikes that receive subsidies, namely E-Max and Agats. According to Wilson, thousands of consumers are interested in making a purchase.
Sispira, an information system for providing assistance for purchasing two-wheeled electric vehicles, is a special site as a subsidy information center, product registration and purchase verification.
The purchase scheme is that the consumer comes to the dealer and then is verified based on the National Identity Number (NIK). If it fits the criteria, the price of the electric motorbike purchased will be cut by IDR 7 million.
After that, the dealer will submit a claim for subsidies to the Himbara bank (Association of State-Owned Banks). If you pass the verification, replacement funds will be disbursed.
Other manufacturers also revealed that so far, nine days after the program was announced, not a single unit of subsidized electric motorbikes had been sold. The problem is similar, namely the problem of Sisira not being active.
"Yes, so until now consumers have not purchased subsidized electric motorbikes. Because the Sispira website is not yet active, so we cannot check the NIK of the applicants," said Rizal Alexander, Marketing Strategic Smoot & Swap.
Polytron, another manufacturer, explained that they are still selling electric motorbikes whose status is subsidized, Fox-R, but at normal prices because subsidies cannot be given yet.
"Sales are continuing as usual, but sales with government subsidies have not started because the NIK checking website has not been released yet," said Tekno Wibowo, Commercial Director of Polytron.
The government provides subsidies of IDR 7 million for 13 models of electric motorbikes from eight manufacturers. This program starts on March 20 to December 31, 2024.
The following is a list of 13 electric motorbikes that have received subsidies of IDR 7 million.
1. Gesits G1 TKDN 46.73 percent
2. United T1800 TKDN 56.89 percent
3. United TX3000 TKDN 57.19 percent
4. United TX1800 TKDN 57.02 percent
5. Smooth Electric Combat TKDN 47.61 percent
6. Electric Smooth Zuzu TKDN 47.88 percent
7. Volta 401 TKDN 47.36 percent
8. Difference in E-MAX TKDN 53.69 percent
9. Selis Agats TKDN 53.37 percent
10. Viar New Q1 TKDN 50.26 percent
11. Rakata X5 TKDN 54.17 percent
12. Rakata S9 TKDN 55.78 percent
13. Polytron PEV 30M1 (Fox-R) TKDN 45.13 percent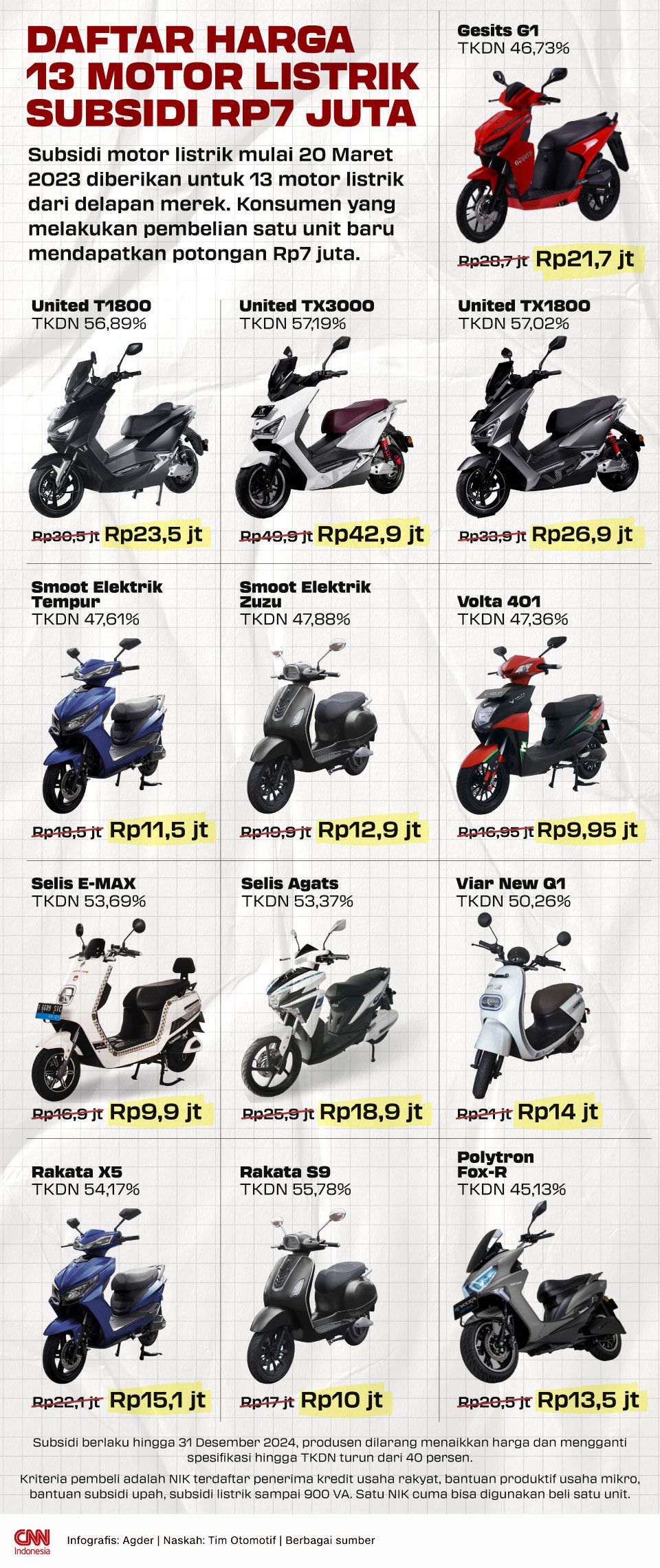 Price list for 13 subsidized electric motorcycles of IDR 7 million. (CNN Indonesia/ Agder Maulana) (fea)
(Gambas:Video CNN)