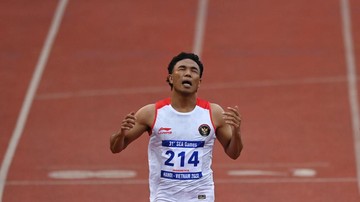 Jakarta, CNN Indonesia —
Indonesian sprinter Lalu Muhammad Zohri had a sweet moment in Ramadan. Winning a gold medal in the holy month is a memory that will be remembered for the rest of his life.
At that time Zohri took part in an Asian-level tournament titled Gifu Asian Junior Championships 2018 in Japan. It was the first official continental level event for Zohri after entering Pelatnas at the end of 2017.
One thing that is a challenge in itself is that the first Asian tournament that Zohri participated in coincided with the month of Ramadan. However, the fasting month did not prevent Zohri from achieving.
Zohri took part in the men's 100 meters. The runner from Lombok, West Nusa Tenggara managed to become the fastest with a record time of 10.27 seconds.
"Back then, at the 2018 Asian Championships in Japan, I got a gold (medal). That was the first time I took part in a tournament during the fasting month," Zohri told CNNIndonesia.com.
On the one hand, he does not deny that there are adjustments during the month of Ramadan. On race day, Zohri was forced not to fast.
Nevertheless, the 22-year-old runner tried his best to replace fasting on other days. He is aware that fasting is one of the obligatory worship for a Muslim.
"I didn't fast on the day of the race, two days before the race I also didn't fast. But as much as possible I changed the fast. Usually a few weeks after Idul Fitri I changed the fast," said Zohri.
Zohri's commitment to Ramadan is also manifested by continuing to fast during daily training. He still does it even though it's not easy to do.
"If it's difficult, it's not. But when practicing, it's two to three times more tired when fasting," said Zohri.
"That's why training is usually done in the afternoon before the maghrib call to prayer. The training portion is also more adapted to the coach," he added.
Currently, Zohri, who is focused on heading to the 2023 SEA Games in Cambodia, is fasting while training. He wants to get back on the podium after undergoing a long injury recovery. In addition, he is also determined to appear at the 2024 Paris Olympics.
"Right now we are focusing on training to prepare for the SEA Games. God willing, before the SEA Games there will also be the Australian Open championship. I don't know which number to play yet," said Zohri.
"The coach doesn't give me a target because I don't know where the number will be. If I want to compete in the 100-meter relay, I want to aim to qualify for the Olympics," he said.
(Gambas:Video CNN)
(ikw/nva)