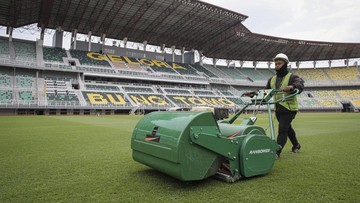 Jakarta, CNN Indonesia —
Acting (Plt) Menpora Muhadjir Effendy hopes that FIFA will change its attitude after the draw for the 2023 U-20 World Cup is cancelled.
FIFA has decided that the draw for the 2023 U-20 World Cup which was originally planned to take place in Bali on March 31 is cancelled.
The cancellation then raised questions about the continuation of Indonesia's destiny as host of the 2023 U-20 World Cup.
When asked for comments regarding the transfer of hosts for the 2023 U-20 World Cup which had started circulating in the media, Muhadjir also hoped that FIFA would change its attitude.
"We haven't gone that far, we hope there will be a change in attitude from FIFA and we will try to accommodate various objections from within the country," said Muhadjir.
"God willing, there is no bad possibility, all possibilities are good," he said again when asked about Indonesia's cancellation of hosting the 2023 U-20 World Cup.
Muhadjir stated that currently there are still talks between Indonesia and FIFA. He also mentioned Erick Thohir's efforts as chairman of PSSI to consult Zurich to meet representatives of the world soccer body.
In addition, Muhadjir also discussed that Indonesia had submitted conditions so that Israel could still become a contestant for the 2023 U-20 World Cup, but Muhadjir was reluctant to mention the conditions in question.
"There's no need, after all it has been decided that the anunya (drawing) has been postponed by FIFA," he said.
(Gambas:Video CNN)
(dhf/nva)